As we have told you many times natural light in interior decoration It has a lot of importance. Moreover, we know that our post about lighting spaces you love, as well as those where we focus on energy savings, and therefore we have believed it essential to present Catch the sun, an original and simple solar lamp in a glass jar.
Decorate with glass jars it is a trend that continues to grow due to the presence of Shabby Chic and Vintage style. Moreover, in our blog we have already told you a lot of ideas to customize glass jars and give them new uses. In this case, Catch the sun allows us to also customize our jar but with the peculiarity that it will also serve as a solar lamp!
What is Catch the sun?
It is a solar lamp made with a transparent and simple glass jar, whose only peculiarity is that the cover allows to capture sunlight at the top and illuminate from the bottom. It is made of glass and aluminum (the lid) and the light that it includes is of LED type to improve the saving.
Undoubtedly, a simple idea at the same time that original to which we can then give a personal touch by decorating the jar or using it for different things, from a fish tank to a jelly jar.
How does this solar lamp work in a glass jar?
The operation is easy. To light up you will only have to lower the tab that you have raised so that it comes into contact with the lid. And to turn it off, raise it to its initial position. It works practically like a switch.
On the other hand, the loading time depends a lot on the time you do. If the day is totally sunny, it will be fully charged in 6 or 8 hours, if it is between cloudy and with some clearings it will cost 12 hours or more and if it is totally cloudy and cloudy it will not load.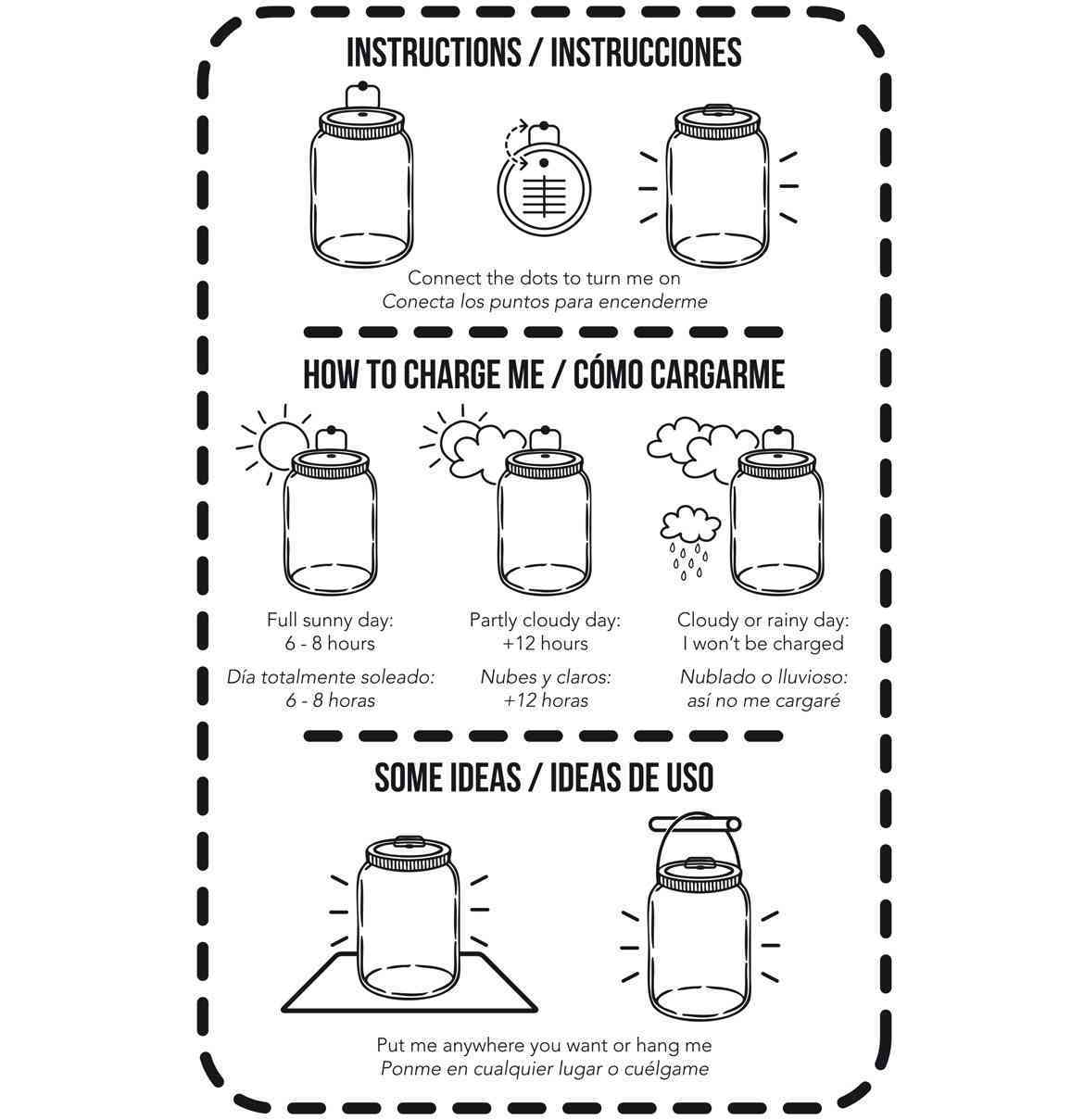 It is always important to keep in mind that we will need to have natural light for the charge of this lamp, so it will be ideal to use in the corner of your home where you have your favorite plants in the sun, on the terrace or in the garden.
In addition, it has a handle so that you can hang it like a lantern from the branch of a tree, for example.
The power of the sun in a glass jar
Undoubtedly, this proposal is a good option if you are looking for a solar lamp with a special decoration. Most of the solar lamps have a very poor aesthetics. The most common are the torches for the garden that we can perfectly substitute for this much more current and creative proposal.
Another option is to decorate a staircase with a jar on each of the steps, at night it will create a very special and romantic atmosphere.
What do you think of this solar lamp in a glass jar? We discovered it in the showroom recently inaugurated in Madrid called Beluga Concept along with other Spanish design proposals.
If you want to know more about this original way to light up your home, you can visit its website Catchthesun.es where it also has an online store. And for those of you who are asking, the price of each Sun Catch is 30 €.