Centerpiece for Christmas original and very attractive. Soon the Christmas holidays will be happening, as the days of the year continue to march fast. And we always love when they get this kind of celebrations because we can apply ourselves to be as original as we want, creating beautiful ornaments for the house or taking advantage of ideas for decorate environments that we have already shown you every year, many of them and this year will not be different.
Today we bring you an idea as we said, from a original centerpiece for Christmas. You already know that you will have the opportunity to invite friends and relatives to enjoy the Christmas dinner or to participate in those small events that are held each holiday season. And it is when the house must look wonderful, with the most beautiful details and with full decoration related to the celebration. This centerpiece you can do it, to add the charm that you have prepared your ornaments and have decorated to your liking.
El centerpiece, It is made with small branches of wood that have been cleaned and varnished, and then have been tied with a piece of soft skin from the bark of the trees, giving a messy but flirty look and leaving a space in the middle to place a candle. A small candle that serves as a decoration for the table and branches to impose naturalness.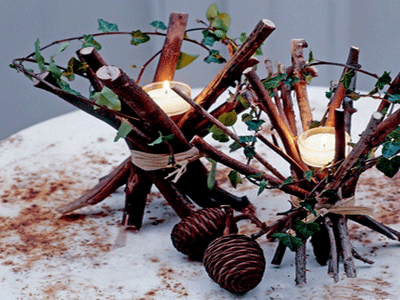 As you will observe it does not cost so much, almost nothing, to do this, it is enough to make small branches and some branches with leaves to decorate the Christmas centerpiece, and of course you can take advantage of maybe adding a ribbon or if you prefer to use it in this way, do not doubt that this nice detail on the table will please all friends and why not? turn it into a gift to give at parties.
Ideas for Christmas centerpieces