The design challenges itself, responding to the growing demands of the market with surprising vigor.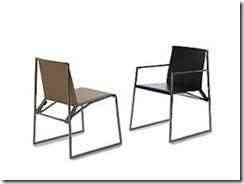 With ergonomic shapes and lines of envy to any artist with the intention of creating the new, the chairs that we have selected to show, are proof that the brands of contemporary furniture redouble efforts to edit pieces that translate the last concept of the creator, anxious for breaking with current regulations.
In general, that mission has a good result, you can also invest and change all the rules on decoration, creating your own style, innovating and giving a personal air to your space.
It is in this context that you can and should choose one of these chair models as a piece of differentiation in your environment.
See the examples of the newest and most original that is being produced in what refers to these accessories, so basic in our lives, that many times it is forgotten and we do not see it with the eyes that we should see it.
Do not be afraid to break stereotypes with a chair that differs from the rest of your decoration.
The art is in knowing how to combine the styles. Know that you can mix a lacquered chair in a room that has a natural wood table. The fusion of the styles is by far, a trend in the current decoration. In this way your space is valued with a piece that transports itself, a clear increased value to your decorating project.
The heavyweights of the industry, such as the Italian Baleri or Arketipo, do not fit into their position and continue to break roads and risk the design they propose to the market, editing models that take precedence over originality.
Many of these chairs that we select, are not only highlighted by their originality in the design, but also by the environmental awareness that is underlying their manufacture.
It is in this picture that the ecological concerns, transverse to contemporary society, result in somewhat minimalist designs in the sense that the number of components needed in the manufacture of the parts and the consequent energy costs inherent in this process is reduced.
This is the case of the chair "Kia" by Emmemobili, which is born from a simple sheet of wood that is pressed and curved by a single machine. After resting, the sheet is molded and glued and the final finish that follows is made exclusively by hand.
This means that the environmental impact of the production of this chair is minimal, going to meet a philosophy that is increasingly framed in an "ecological lifestyle" or a concept "Go Green" that applies to different industries and standards of life where sustainable development is the word of order.