It may seem that Christmas is still far away, but when we least expect it will make an appearance. To avoid the last minute rush and not leave anything to chance, it is good that we begin to prepare those elements that will be part of the decoration of our home during those days. Although Bethlehem portals and Christmas trees are the most used, we must not miss other decorative elements and that can give us a lot of play as the chandeliers for Christmas.
We could think that these chandeliers for Christmas are usually very expensive, but with a little time and effort on our part, we can design ourselves with objects that we have at home or with economic materials that we can find in any bazaar.
How to design chandeliers for Christmas?
First of all, clarify that a chandelier can be designed in a multitude of different ways. Everything depends on our imagination and what we want to achieve. With a little of our time, we can get to create authentic works of art that will be responsible for brightening our Christmas table when we gather around it for dinner or lunch.
When designing a candlestick we must take into account some elements that can help us achieve our goal. Some things we can take into account are:
Use the ball glasses that we usually use to prepare our cocktails. Its round and broad shape can give us a lot of play when placing items inside.
We can use melted wax to fix the elements and not to move.
We can not forget to place a candle inside, either a tall candle or small candles.
Choose the right colors so that all the elements combine well.
Square vase with red tones
This first example that we leave you, has been designed using a large square vase as a base. In its interior a wide candle has been placed in its central part. Around it was placed red berries typical of this time of year. If you want, you can also add green touches to make it even more impressive.
Inverted cups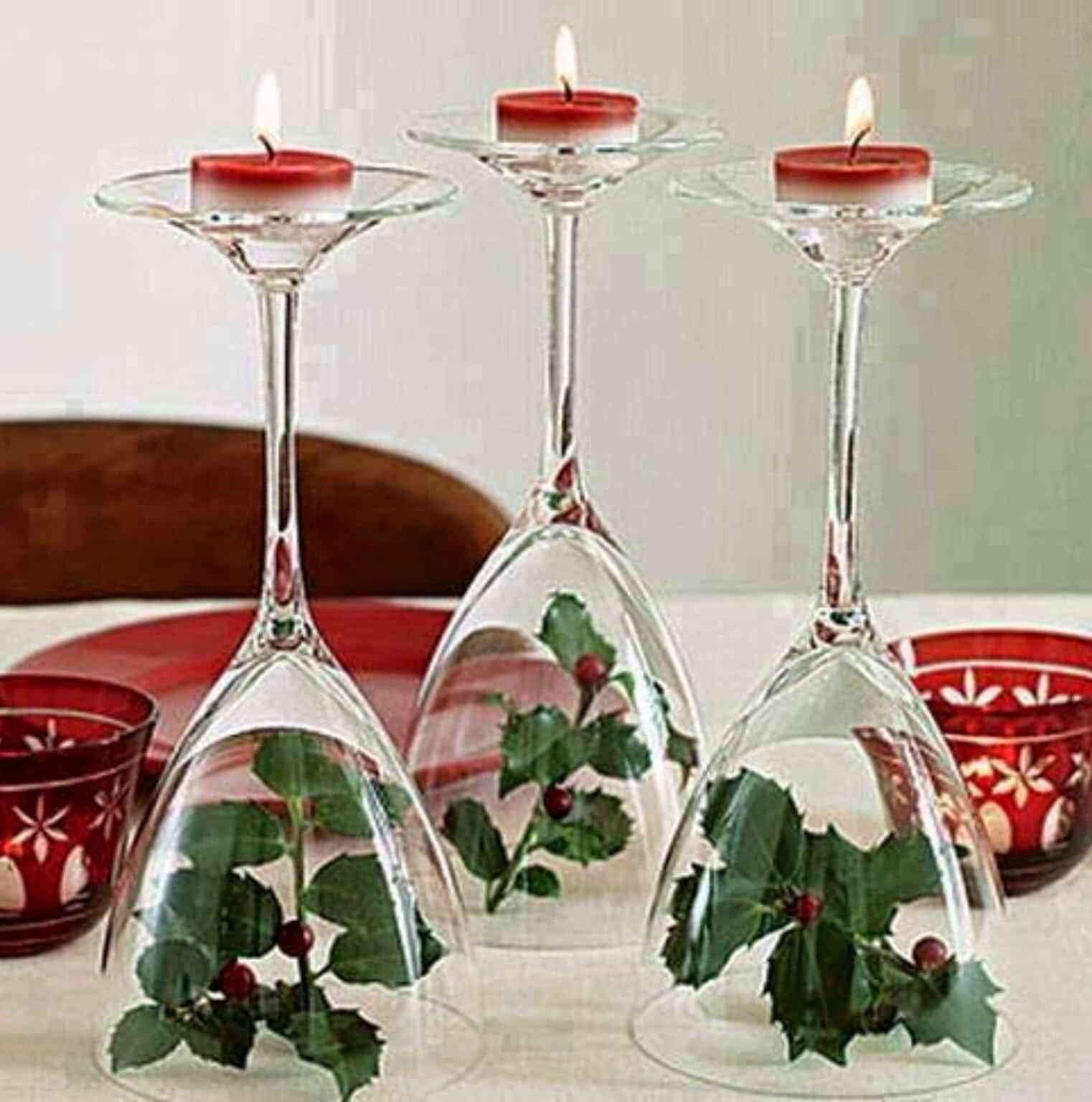 If you liked the previous example, surely you will also like this other idea. It consists of using some glass that we have at home as if it were candlesticks. If you look at the image, the glasses have been inverted and in the part that usually rests on the table, they have been placed small candles red, very consistent with this time of year. To make them even more impressive, mistletoe leaves have been placed inside the cups. Who can resist this decoration?
Round vase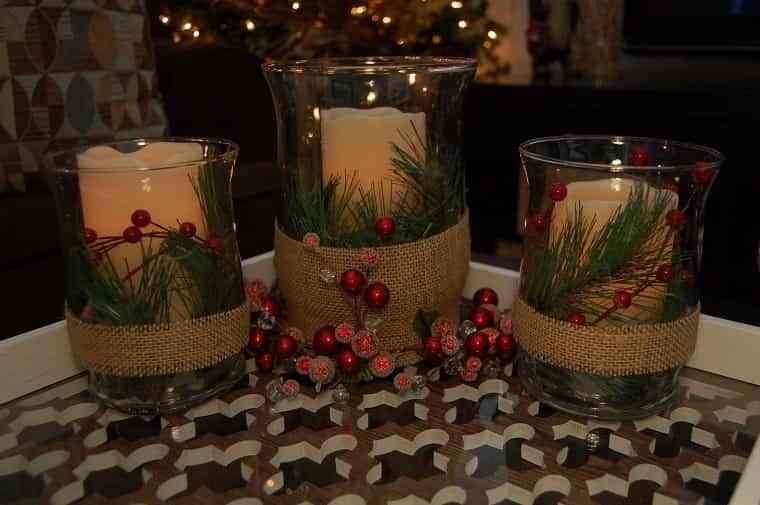 Previously we used a square vase to mount our chandelier. Now what we use is a round one that also gives a lot of play. Inside we place the candle next to natural leaves and small red balls.
Glasses with Christmas decoration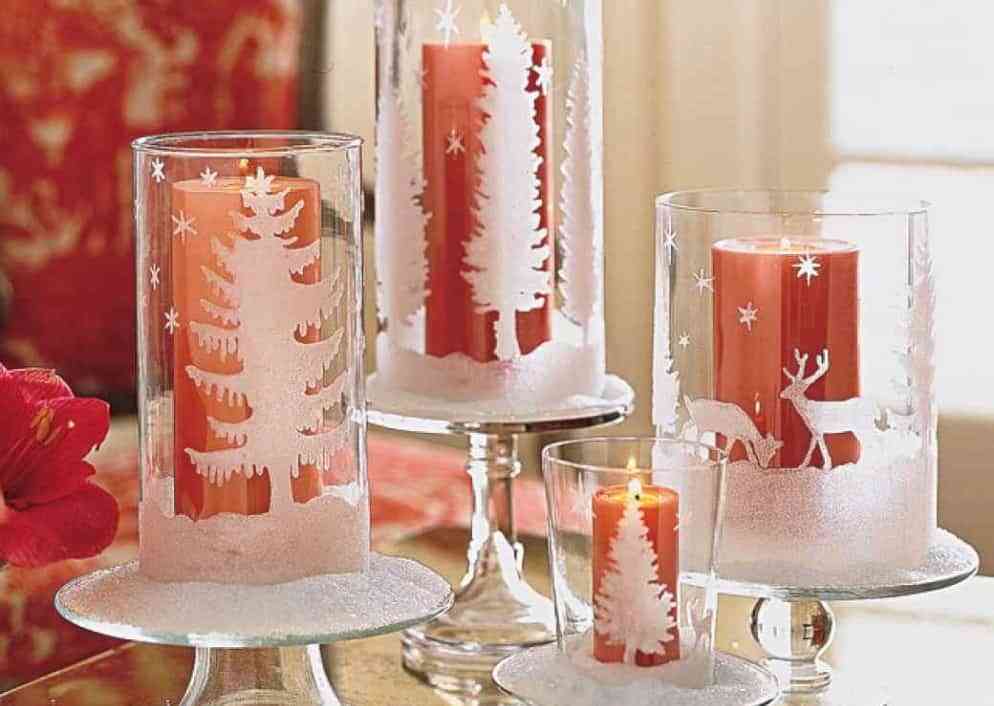 If we want our homemade chandelier to have more Christmas appearance, the best we can do is to use different sized glasses, but have a decoration related to Christmas on its surface. If we add a red candle to this, the result we get is surprising.
Glass on a large fountain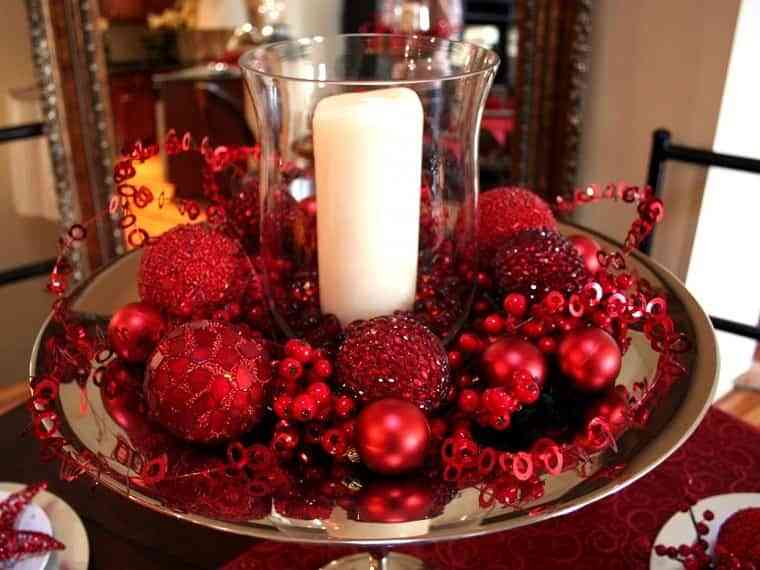 The last of the cases that we leave you has used a large metal source that has given a lot of game when placing elements on it. In the center a glass vase was placed with a white candle inside to highlight the challenge of elements that have been used. Around that candle were placed red balls of different shades. Perfect to be part of the center of any table.
Candelabra Gallery for Christmas
Here we leave some images of candlesticks for Christmas that we can use to decorate our tables or any other piece of furniture in our home.
Surely these ideas that we have shared with you will come very well to get a special touch to yours Christmas decoration.