Good morning, today in Decor we want to give some ideas for decorating the bedroom of the smallest of the house. If you have a baby or it is in the pipeline, perhaps these suggestions will be very useful.
Many years have passed and most of the trend for your baby's bedroom have been pastel colors. These are very clear tones and do not bother the eye, being as strong as other colors.
But every time we see colors that they leave a little bit of the trend for example the light lilac color for the walls, a nice pink chewing gum maybe for the textiles, a yellow canary also for the walls ... the most risky look for example a beautiful color sky or the color raspberry.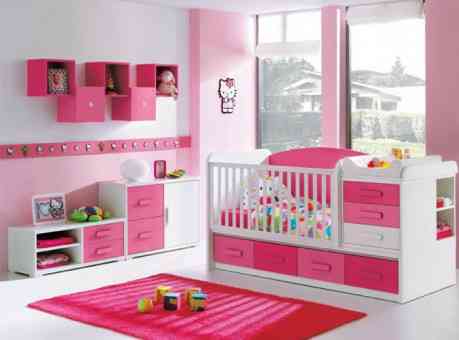 It is true that light colors relax, but we also have to take into account that the baby does not see during the first months, only some shadows ... in this way until he can discern between movements and objects, by then the contrasted colors will detect them before than the clear ones.
To decorate the walls we could also take into account the well-known vinyl. There is a wide range of styles and shapes from which we can select the ones we like the most ... in fact we can even propose our designs to do it for us.
Think about the theme you want the room to have and get inspired by what you like the most ... for example nature, this year it takes a lot and we can find a lot of textiles in animal print to decorate ..
But we can also choose some of your favorite characters, some fairy tale princesses, maybe stars and moons ... there's a lot to choose from.
Remember to add some nice carpet, and do not forget the roof! this space is also important ... we will need a light and some striking motives or projections of lights and shapes ... this will help the child's development.
On the light remember to have at least two sources of it, one more tenuous and another that occupies the entire stay.