The wooden floors are a classic. A star element in question of pavements that it remains in force no matter how long it happens. And it's not strange, since, besides beauty, they bring great warmth to the environments. Personally, choosing wooden floors for a house seems unquestionable. However, they also have their disadvantages. Today we are going to try to analyze its pros and cons. Keep reading!
In addition to beautiful, natural and authentic, They are warm and welcoming. Therefore, choosing wooden floors has become very common, both in newly built houses and in total renovations of older homes.
The wood in the pavements contributes an extra value to any house and, if you treat them with care and give them the care they need, they can have a long lifespan. Do you want to know all the keys to choose wooden floors? Today we are going to talk of its advantages and its disadvantages, so you can make your own assessment and decide with knowledge of cause.
Choosing wooden floors: the advantages
One of the maximum qualities of wooden floors, from the perspective of interior design, is that They are able to create atmosphere like no other material. Its natural appearance, its warmth, its pleasant touch ... All these factors make wooden floors become the 1 number element to create comfortable and cozy spaces.
In addition, they fit a thousand wonders with any decorative style. Yes it is true that, depending on the tone of the wood, the size of the slats or the way of placement, they can be more or less classic or modern. However, choosing wooden floors is a good idea whatever our decorative style. We will not be wrong!
Moreover, wood is an insulating material, which is an advantage if, for example, you like to walk barefoot around the house. That warm and pleasant touch It is one of its greatest virtues. As much as other materials imitate the beautiful appearance of wood, they can hardly match their special touch.
Among its other advantages, is its long duration (they are not as delicate as you think), their insulating capacity at the acoustic level, and also the fact of being suitable for people with allergies and asthma, since they do not accumulate mites or allergens.
Disadvantages to consider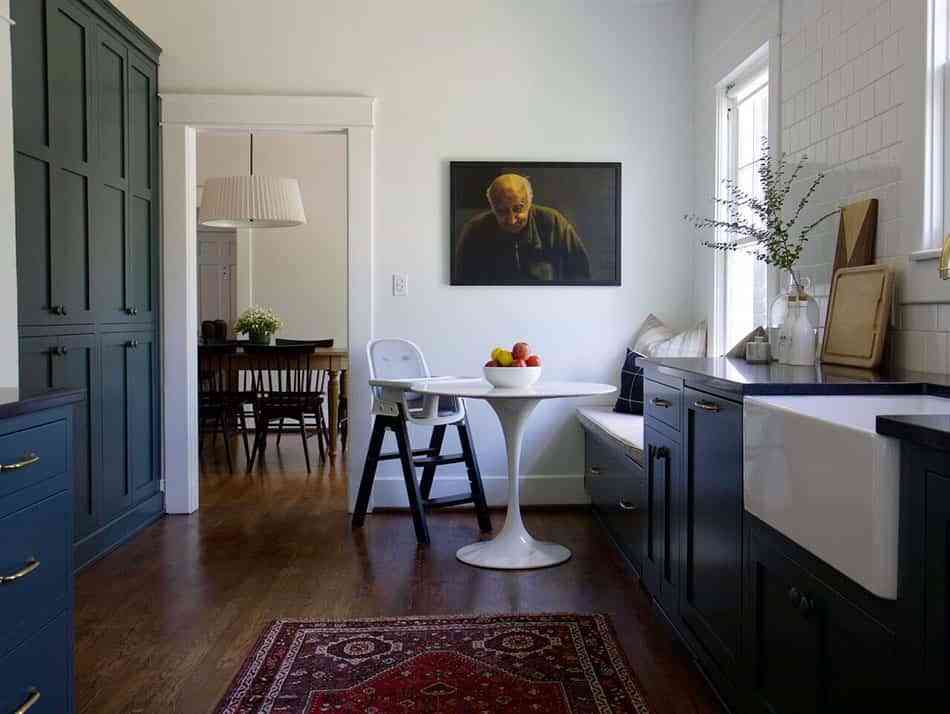 In general, I think that the advantages weigh more than the disadvantages when choosing wooden floors. But it is always worth thinking about the contras that present this type of pavement, so as not to bring unpleasant surprises with which we had not counted.
One of the disadvantages that wood has in relation to other materials for floors is its high price. For example, if you want to install parquet throughout the house, you will need to invest a significant amount of money. Although it is also true that there is a diversity of prices, and that you can opt for cheaper models.
It is also commonly believed that wooden floors are delicate. And so it is ... in a certain way. Although there are very hard and resistant woods, not all are equal. There is a scale (the Brinell scale) that classifies different types of wood according to its hardness. According to this scale, jatoba wood is the hardest for floors (although that also triggers its price). There are several woods of medium hardness that are often used for soils: oak, maple or wenge.
And it also influences how resistant our floor is to the finish we give to wood. It is always possible to choose wooden floors finished with polyurethane varnish, that make them much more resistant pavements. Within the varnishes, you can choose a matte, satin or high gloss finish.
If you choose wooden floors Finished with waxes or oils, you should know that they will be much less resistant to scratching. In compensation offer a very natural look, tremendously beautiful. These soils must be re-waxed (or oiled) once a year.
The most appropriate maintenance
Before talking about the care that wood floors require, it is worth mentioning one aspect of them that I consider important: the thickness of the boards or slats. Choosing more or less thick wood floors will determine its durability. For example, solid wood boards (which are not usually put because they have a very high price) have a thickness between 8 and 10 mm, so it can be restored more times (by stabbing).
Multilayer parquets, for example, have a much thinner final wood layer, which allows less slashing.
As for everyday care that you have to give your wooden floors, they go through suck it frequently to eliminate grit and debris that may scratch it. It is also convenient to scrub with water and a specific cleaner once a week, draining the mop well.
With all this data, you will no longer have to give up choosing wooden floors for your home. Surely you find in more suitable for you.