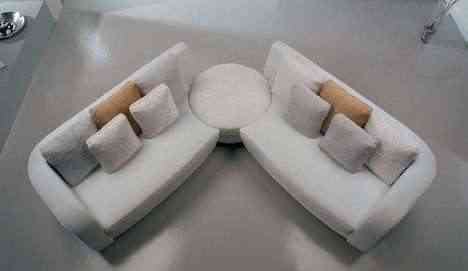 The main element in a living is the sofa. There may be a television, a stereo, a library, a small coffee table, a rug, curtains, depending on the room you may have windows, or none of these elements. But the chair can not miss.
The choice of the appropriate sofa depends on the measurements of the environment and the usefulness and frequency that we will give to that space.
When there is not too much space, it is convenient to use two armchairs of one body each, or one of only two bodies. But in houses with conventional measures, it is always advisable to place an armchair with two bodies plus two of a body or a pair of matching armchairs.
The padding of the seats and the backrest of the sofas is made of foam, polyester, feathers, and even latex. The most resistant combines foam and feathers, interspersed, in 5 layers: feathers up and down (for comfort), two layers of foam and in the middle again feather (to ensure strength). Although this also makes an increase in the value of the furniture.
It is recommended that the seats are soft and that the backrest adapts to the curvature of the back, for a better comfort and relaxation, although this (especially the hardness and firmness of the sofa seats) always depends on the taste of each one.