How placing Christmas lights? This is one of the great questions we ask ourselves at these dates when we begin the preparations and decoration of our home for these so indicated holidays in which we expect to receive our closest friends and family to meet, eat, dine and make us a lot of gifts.
Christmas lights began to be used already in the eighteenth century among the wealthiest German families, who decorated their Christmas trees with all kinds of accessories, and even, candles that since 1880 were transformed into electric lights. And what started in Germany moved to other countries like the United States, where in the 60 years there was an authentic boom of Christmas lights, and even to non-western countries such as Japan, where since the end of the 20th century it has also become a custom both for decorating homes and public roads.
And now, before you get down to work and buy millions of light bulbs and colors ... let's give you some tips and keys to place your Christmas lights!
1. Your house is not the amusement park, nor you a decorator specialist in lights
As much as you like to decorate your home, we must be clear what our limitations, both in combining bulbs as pay the electricity bill. Because of this, and because we do not want our house to become the main tourist stop in our city, we will have to restrain ourselves and propose a decorating project with Christmas lights that is a bit less ornate than the ones we show you.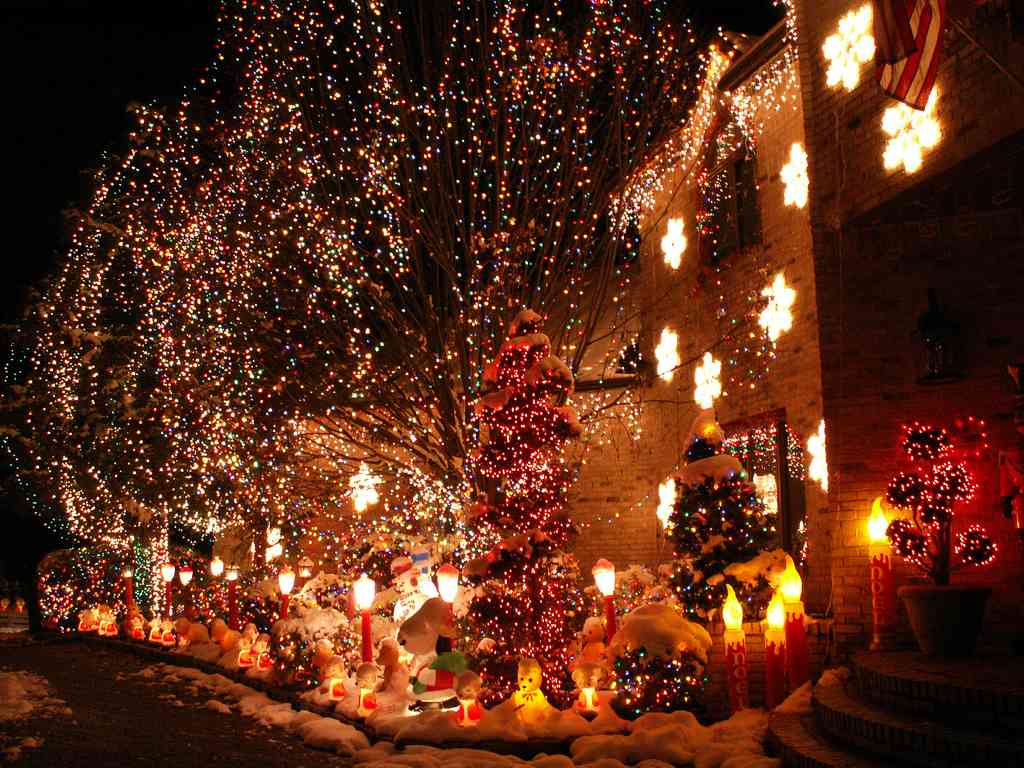 2. The elegance of white lights
If this is the first time you dare with a Christmas outdoor decoration, I recommend that you opt for the white lights, because their simplicity and elegance will always be great. Then, year after year, you can increase your repertoire of lights with other colors that may look good. But white, to begin with, is a sure bet. Moreover, if you simply use them to decorate a Christmas tree crowned with a beautiful star of another color that stands out.
3. Christmas lights inside the windows
A good way to make an interior decoration that looks on the outside, is to put Christmas lights inside the windows so the light go outside but sifted through the glass, which will give it a very interesting and different effect.
4. Christmas garlands with lights
get a green wreaths (either imitation or real trees), and even made with flowers of easter and combined with red bows and white lights, It may be one of the best ways to hit a elegant christmas decoration on the outside of your home.
Use this decoration to frame the windows and balconies, as well as the door. It will be great!
5. Lights that frame your house
Although it is a project for advanced decorators and especially handymen, if you have been putting lights into your home for years and want to take another step to have a really striking decoration like those of the houses in the United States, the trick is to frame your house as if you were drawing it. You can also add some Christmas details and forms such as trees, a star or a Santa Claus.
---
And with this, we already have some ideas to be able to launch our decoration project with lights for this Christmas, although as you know, we are always willing to share your advice with comments in this post.
You can also send us through Facebook the photographs of how you decorated your home this Christmas. We will love to see them and share them with the rest of the readers!