Oil blue, night blue, anthracite gray ... Paint the bedroom walls and decorate it in dark colors It is an infallible resource to bring elegance, glamor and modernity to the environment. Here are some essential guidelines to get right.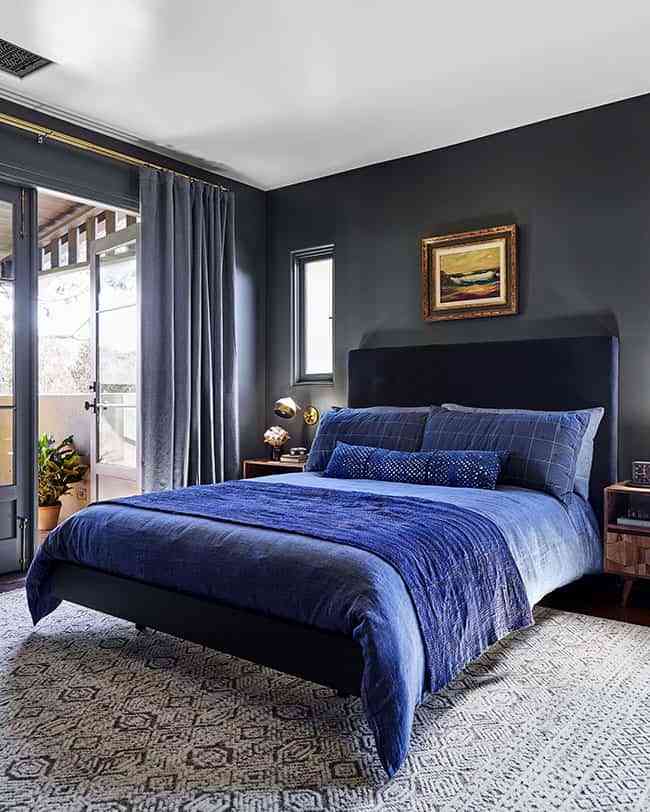 Is your bedroom dull and boring and needs a change? Today we offer you a great idea to redecorate it: paint the walls in dark colors and renovate the interior with some simple keys. You will not need a big budget or change everything from top to bottom.
Now, it is necessary to carry out the project with a certain method to get attractive, cozy and contemporary spaces, without being overwhelming and heavy. In my opinion the dark colors on the walls can provide great doses of visual interest. They are very glamorous and add personality to any room, as long as they are well applied. Today we tell you how to achieve a resounding success.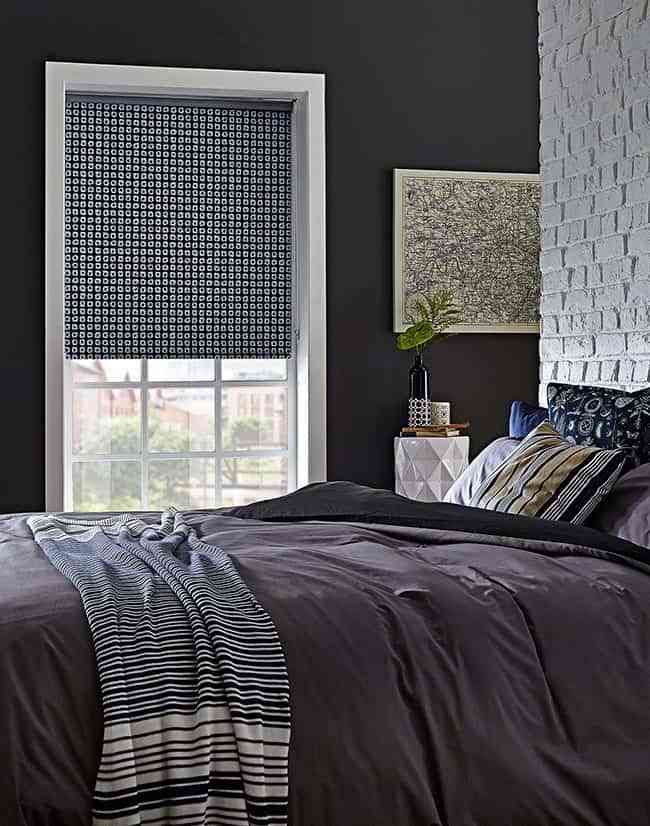 And it seems that the slogan of painting the walls in dark colors is totally opposed to what was learned (and so often repeated) until now. We have always heard that the bedroom must be a temple for rest, and that the most appropriate colors in these spaces are luminous and relaxing, white and neutral tones that convey a sensation of clarity and lightness.
However, sometimes what we want is to load the inks for get different environments, with character and very modern. And painting the walls in dark tones can help us achieve the goal, if we do it well.
Dark colors in the bedroom: choose only one
In this chromatic concept, the best is opt for a single color and go adding tone on tone. In this way we avoid too marked contrasts, which will not be favorable.
We can choose, for example, the blue in different shades. It's not about everything being the same blue, but about work in the same range to achieve a greater sense of harmony and balance. Choose several shades of blue and creates very light contrasts. Keep in mind that the less marked these contrasts, the greater the sense of harmony that is breathed in the bedroom.
Use the same color for cabinets, doors and joinery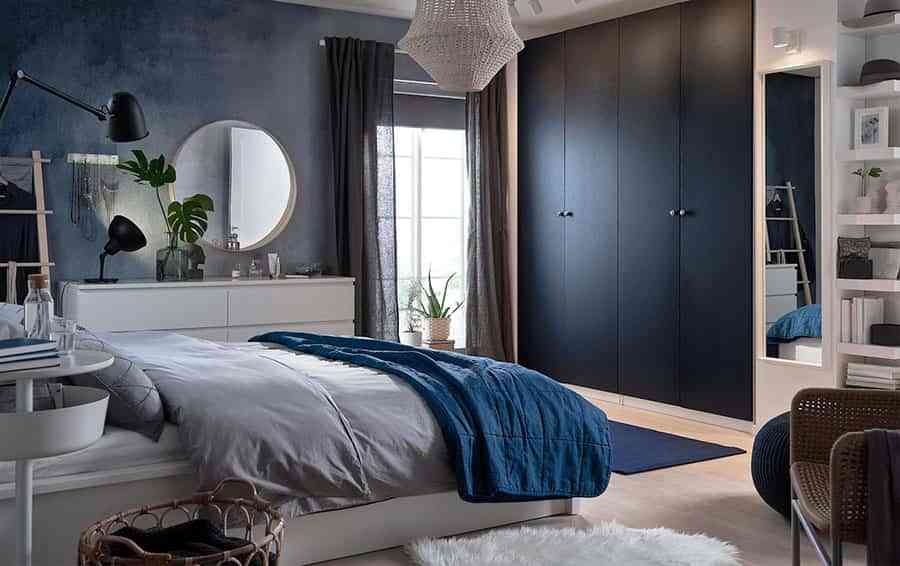 Unify the color of cabinets, doors and joinery with that of the walls itself is a good idea for create a sense of continuity. To contribute for this idea is a tendency, in the line of controlling a lot the contrasts of color.
Also, if you choose dark colors with a lot of personality such as blue night or anthracite gray, you will not need more resources to create visual interest. Your bedroom will be charged with elegance.
Mix textures in textiles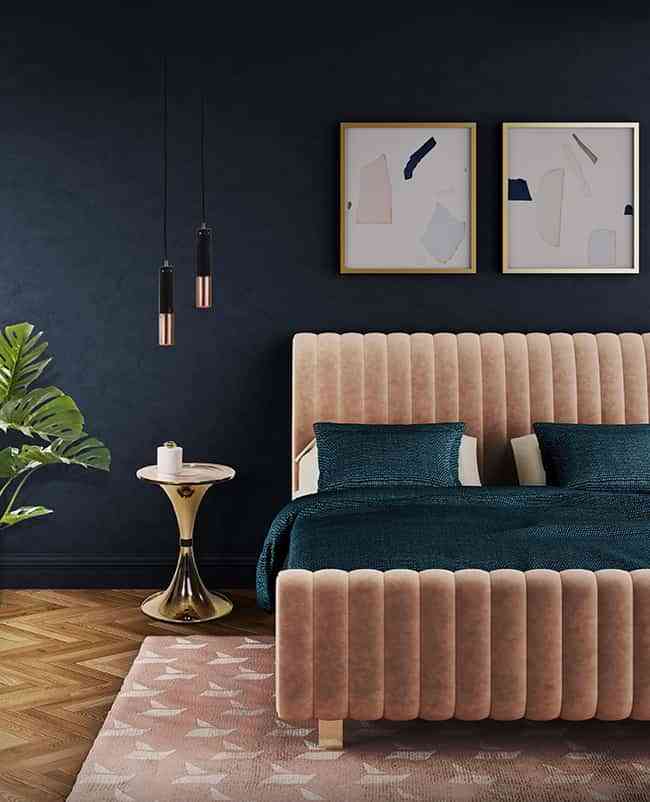 We already know how important it is to choose the textiles in the bedroom correctly, from the curtains to the bedding. And even more if the environment is dominated by a single color. In this case, bet on the mix of textures It is the key to breaking the monotony.
Combine two or three different tissues, with different touch and shade of color. The carpet, the curtains, the bedspread or the head of the bed, if it is upholstered, can give you a lot of play.
Few furniture and singles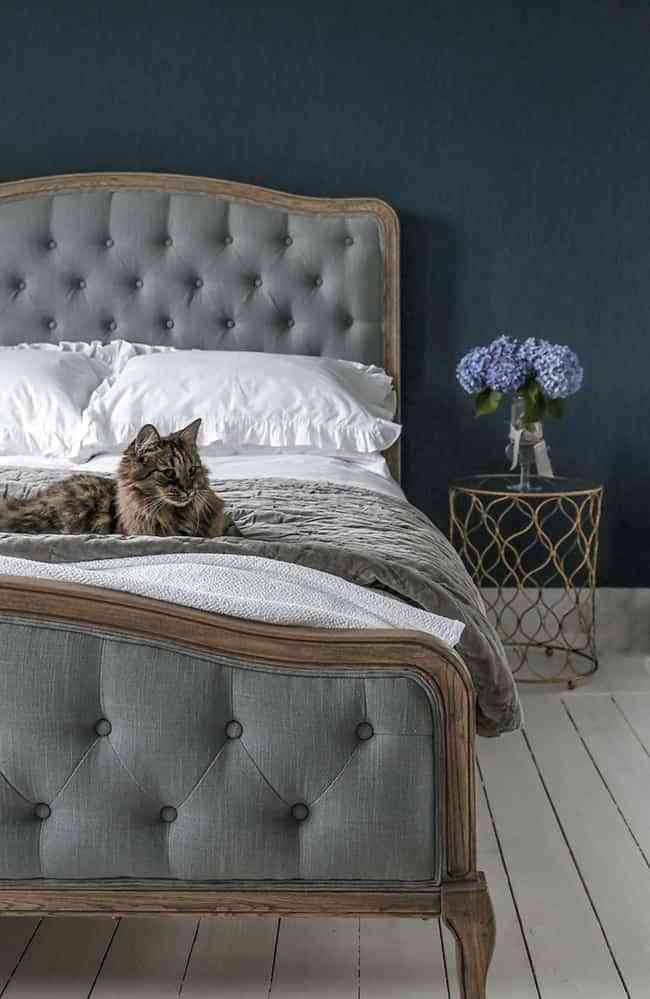 The choice of color, that osucro tone that you like so much, is the key to decorating the bedroom. And for it to continue being the best it is place few pieces of furniture and make them simple. In addition to the bed, you can put a few tables and a chair or small armchair, for example. You will not need anything else, so do not use comfortable or auxiliary furniture (if you can avoid them).
You will not need too many paintings, mirrors or other decorative accessories. Abusing them will only make the environment look motley and very ornate, which will ruin the interior design.
The wood, also dark
Taking advantage of the natural beauty of wood is a great idea to complete the decoration of a bedroom dominated by dark colors. Of course, to avoid strong contrasts I would choose dark woods like walnut, for example. This type of combinations will add even more glamor to the space.
Try to avoid wood with shades too yellow or very red (such as mahogany, for example), as they will lose modernity to the whole.
A touch of brass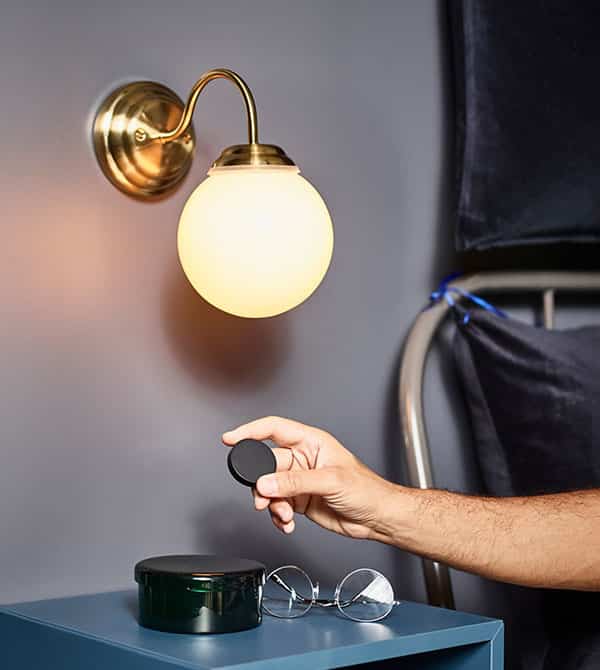 It is the perfect complement, the luminous touch that your bedroom decorated in dark colors needs. In addition to light, it brings elegance and modernity. The ideal is to choose objects from dark brass and with aged effect, that are not too bright
You can decide for golden appliqués or brass lamps for the bedside tables, a frame or a bar for the curtains, the handles of the drawers, etc. You have several options at your fingertips.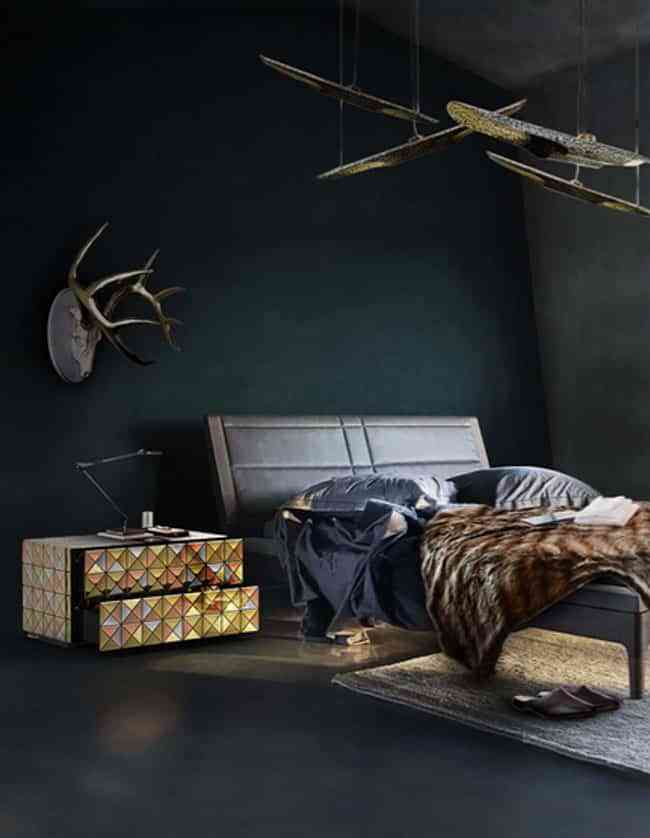 As you can see, decorating the bedroom with dark colors (and, above all, painting the walls in this line) is not an outrage. There are ways to make it become a modern and elegant space, but at the same time cozy.