The good weather invites us to spend more time outdoors. It is a time of year that we like to celebrate lunches and dinners enjoying the company of family and friends. The outdoor kitchens give you the freedom to cook in your garden, terrace, etc., and enjoy contact with nature. Here are some ideas to know the best location, the right materials and the essential elements to have a functional kitchen.
Advantages of outdoor kitchens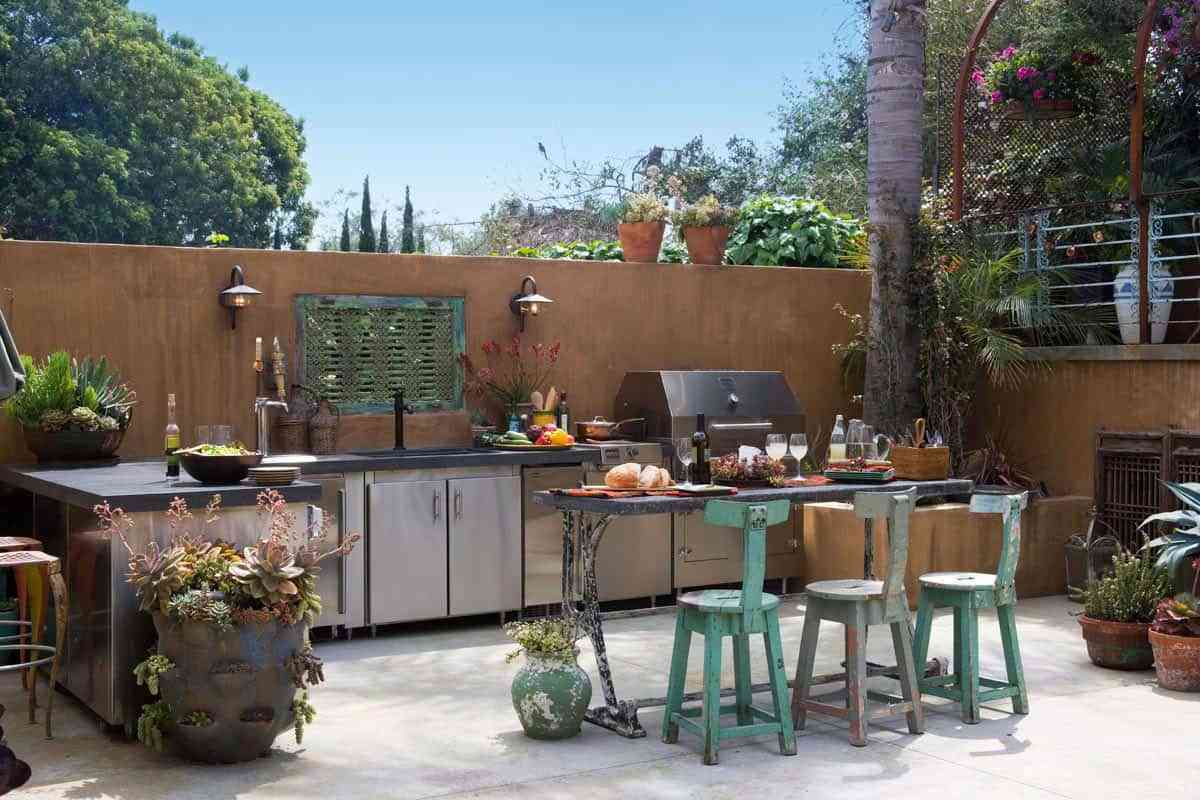 The advantages offered by outdoor kitchens are numerous. Eating outdoors benefits our health and fills us with energy and vitality.
Stress levels are reduced.
We breathe purer air and it helps us to have a healthier digestion.
It leads to greater absorption of nutrients, to be more relaxed and happy.
A walk after eating is perfect to improve mood and digestion.
If you have a porch or a large terrace do not hesitate and opt for outdoor kitchens. They are ideal to enjoy pleasant evenings in the summer months and organize culinary meetings.
It's a small luxury affordable to all pockets depending on the equipment that you want to install. You can choose from a simple barbecue to compact modules with all kinds of appliances and elements necessary for cooking outdoors.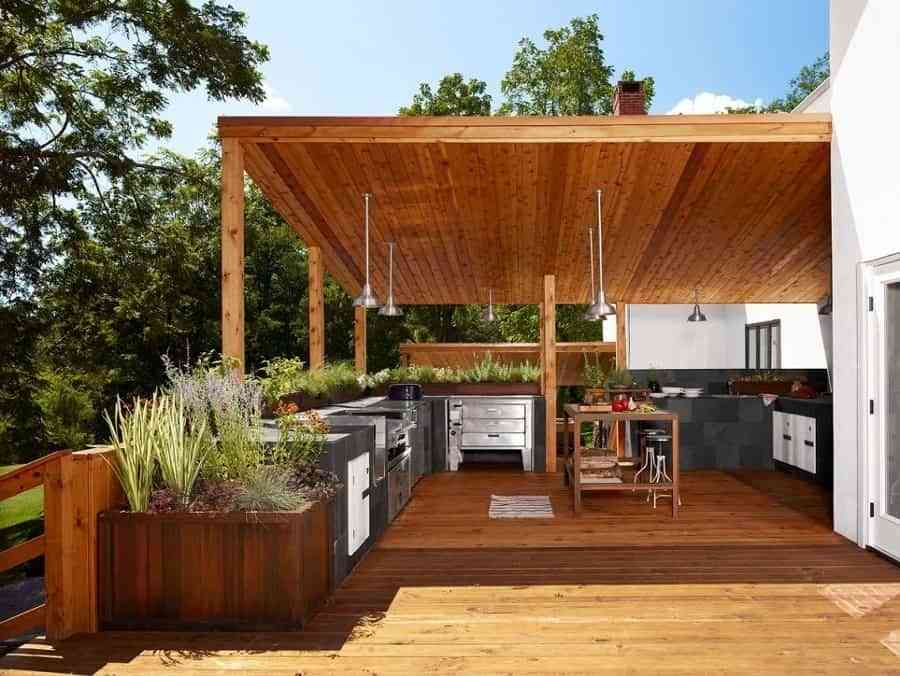 Opt option to consider to bet on outdoor kitchens is that Keep your home free of smoke and odors. It allows you to cook products that you do not usually prepare inside. It also saves you trips from the kitchen to the dining room.
You may be interested in reading: Everything you need to know to enjoy an outdoor kitchen.
Keys to choose the right situation for outdoor kitchens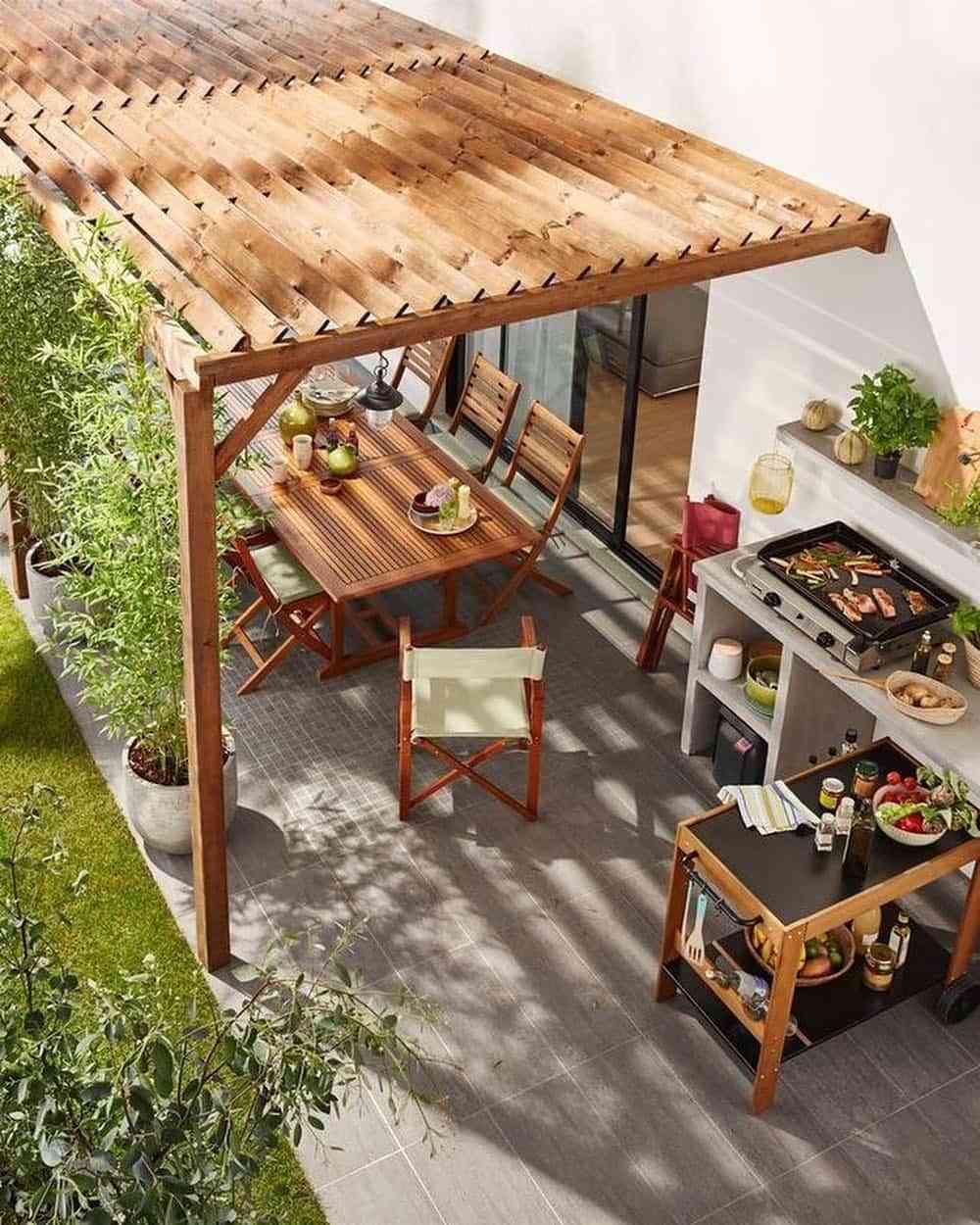 First of all you must think well where you are going to install the outdoor kitchen. You must take into account the climate where you live. Another essential information is the number of hours of sunshine that your terrace or garden receives. Orientation is also important.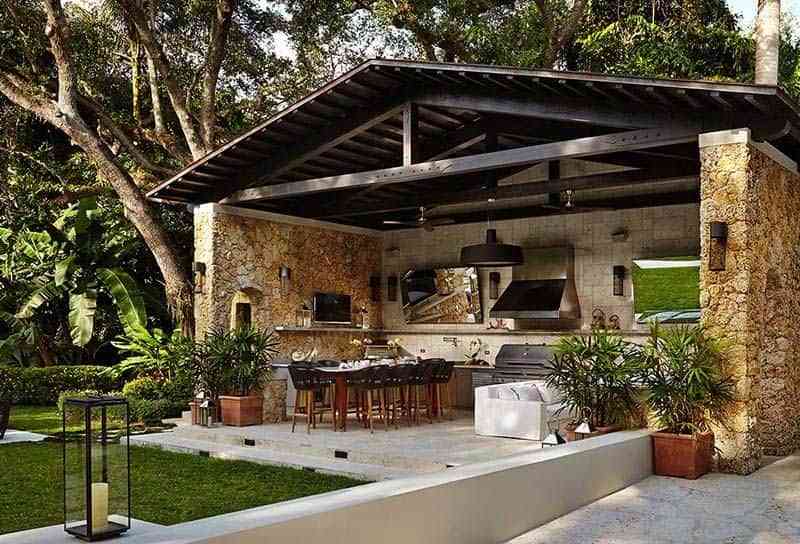 If your house is located in a warm and humid zone It will be recommended have a shadow to cool off in the hottest hours (at noon). For colder climates it is convenient to have a porch that protects against inclement weather.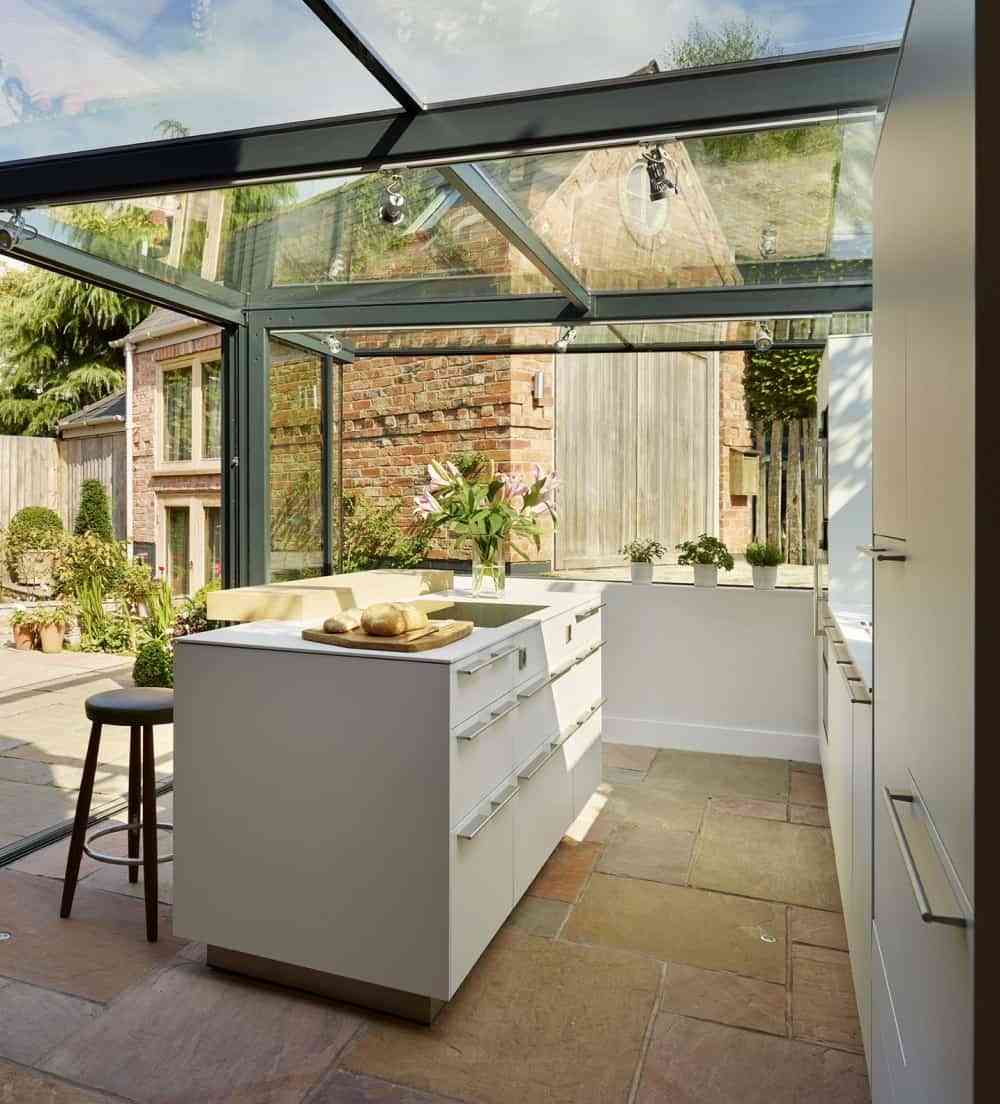 Locate the outdoor kitchen in a glass box It is a great solution to enjoy it during every month of the year. This material achieves a connection with the environment.
The right materials for outdoor kitchens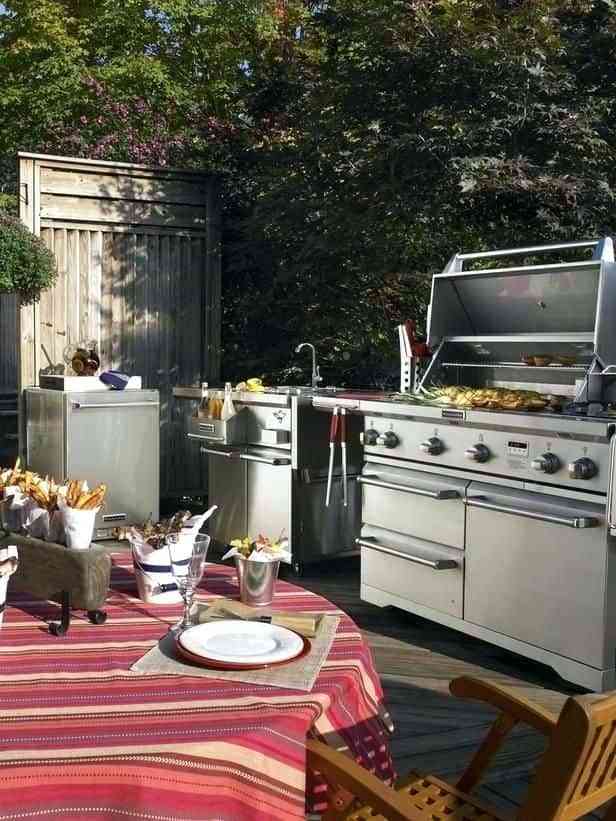 All the furniture and elements that are located outside tend to wear out faster, due to the inclemency of the weather. You have to choose safe materials that are resistant to moisture and sun, in addition to being simple to clean and maintain.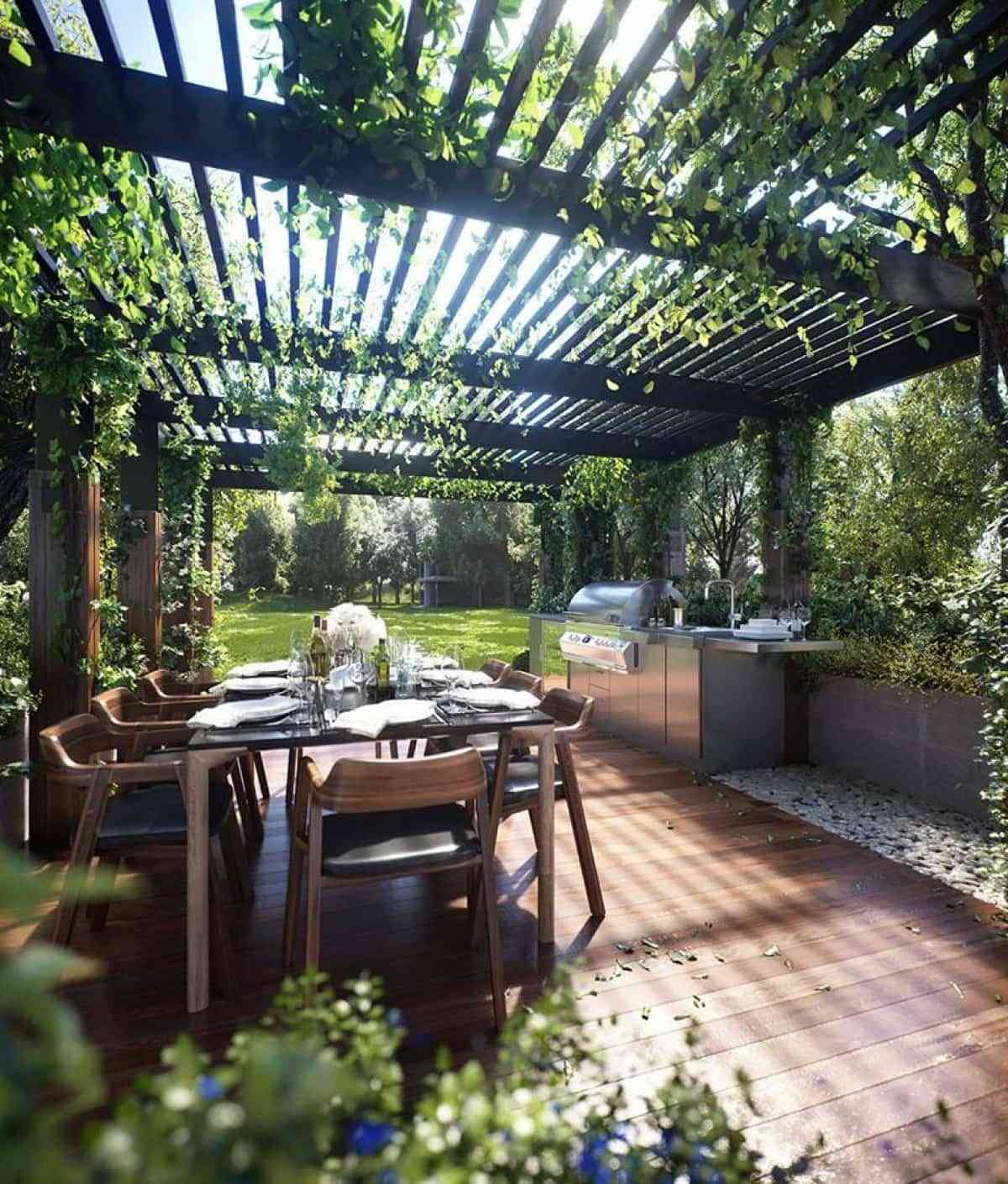 Stainless steel, stone, slate and iron They are recommended for outdoor spaces. Decide for a anti-slip pavement. It will also be a success add a pergola of wood or metal to cover the space where it is cooked.
Modern and functional kitchens
To be able to cook with total freedom there must be all the necessary elements for it: sink, hob, fridge and ample space where you can work. In addition to storage area for utensils and kitchenware.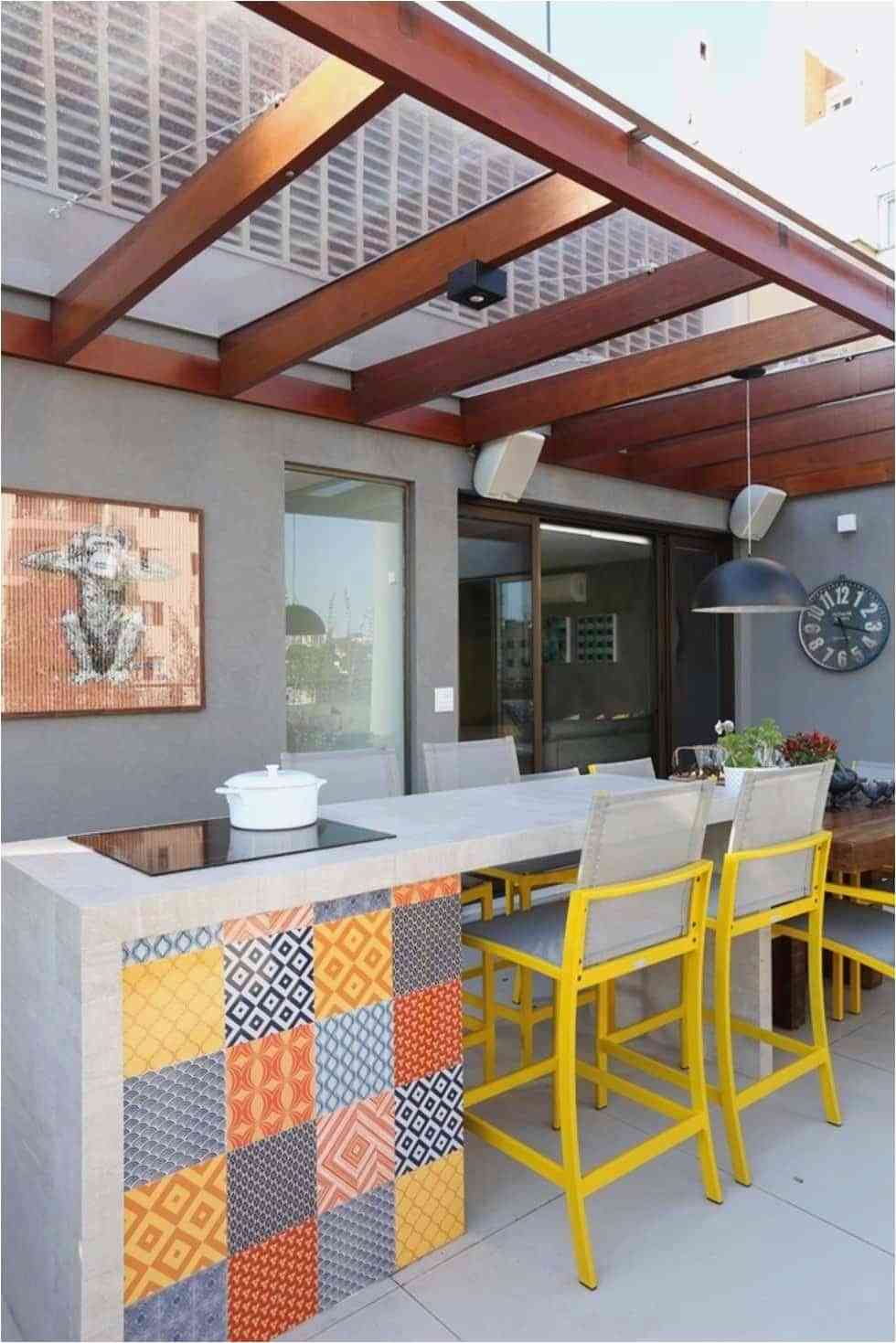 A fantastic option is have a bar where you can eat quietly or have a snack while one or several people cook.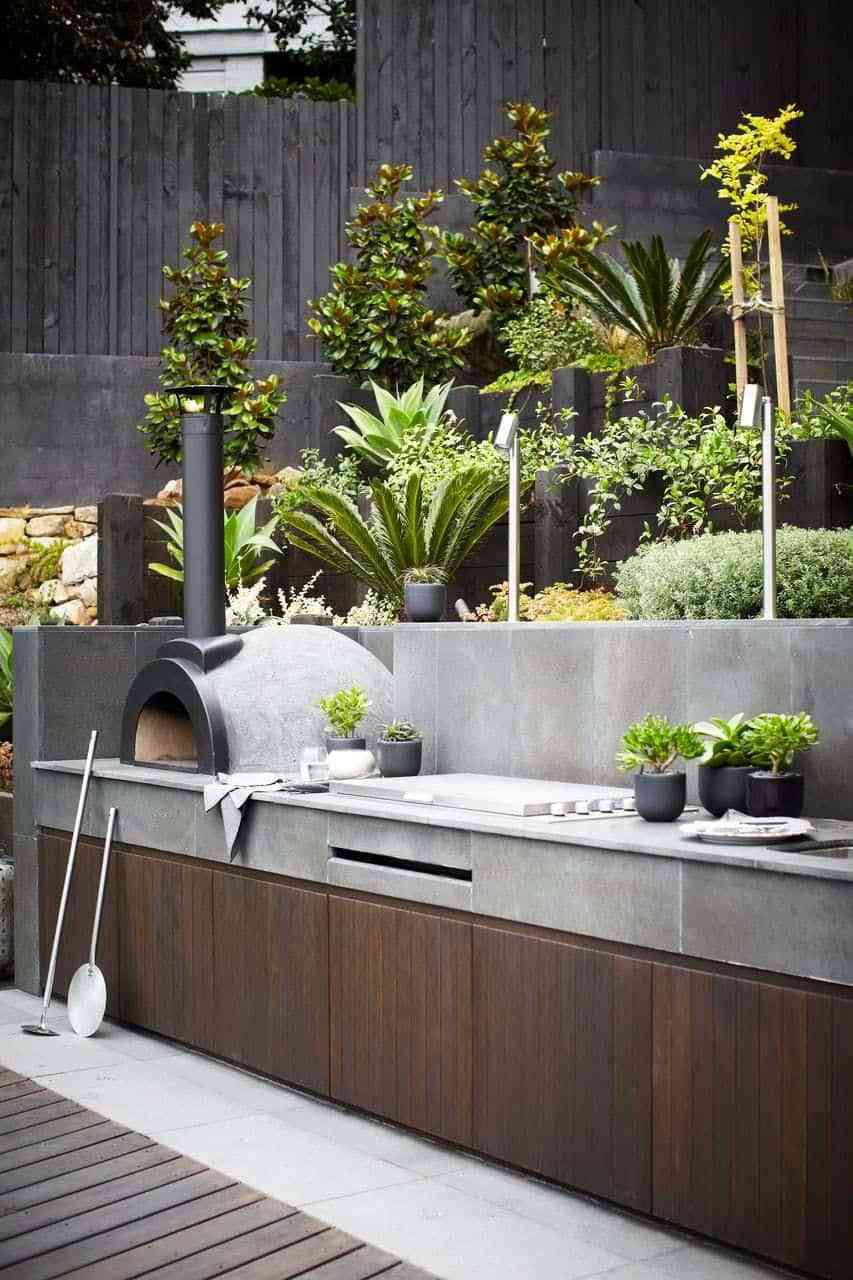 If you are passionate about traditional ovens Do not hesitate and place one in the outdoor kitchen. You can bake, bread, pizzas, meat and other delicious dishes.
Another solution is hide the outdoor kitchens and only let them be seen only when they are going to be used.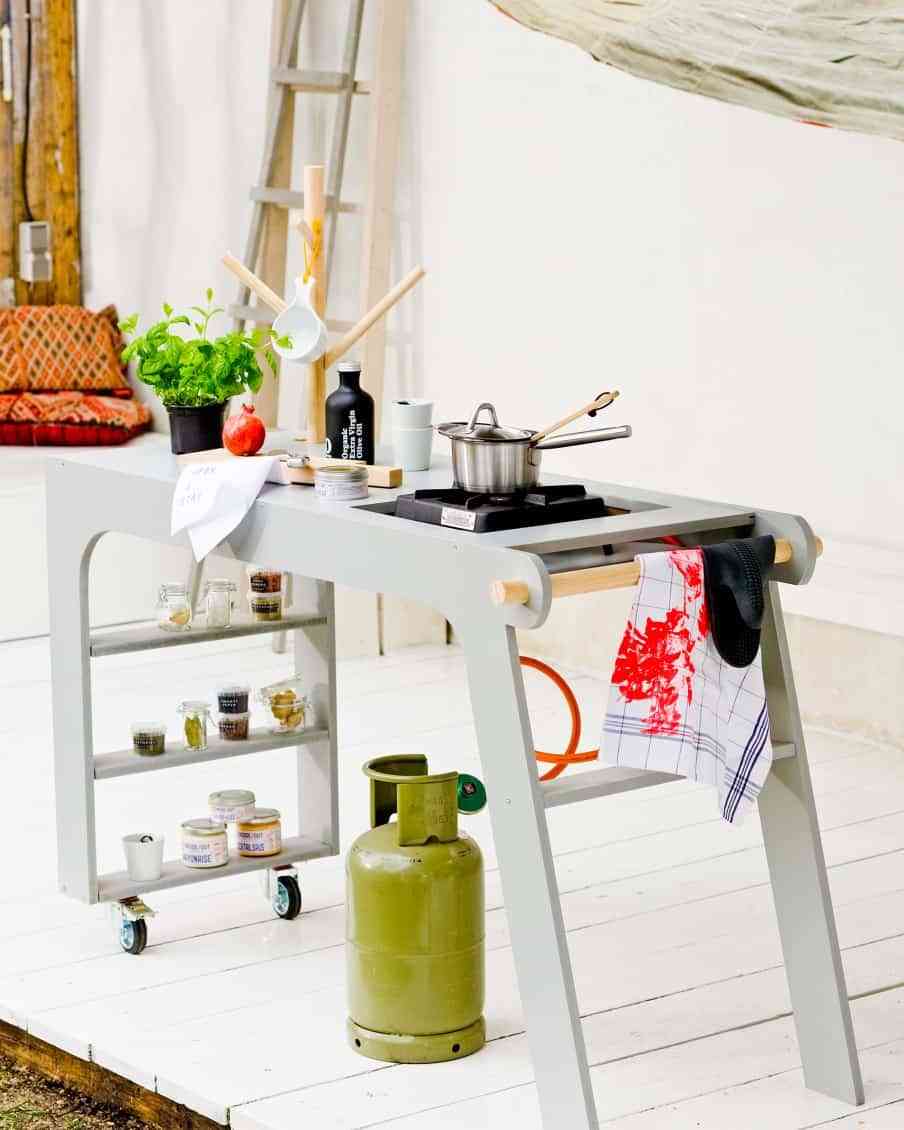 For small spaces there are portable kitchens very practical and functional. After having cooked, it is collected and the available space is again available.
Kitchens open to the outside
Gaining natural light It is one of the most powerful reasons to open the kitchen to the outside. For enhance the luminosity you have to choose furniture with simple lines, use of light tones and natural materials such as wood and compact countertops in white.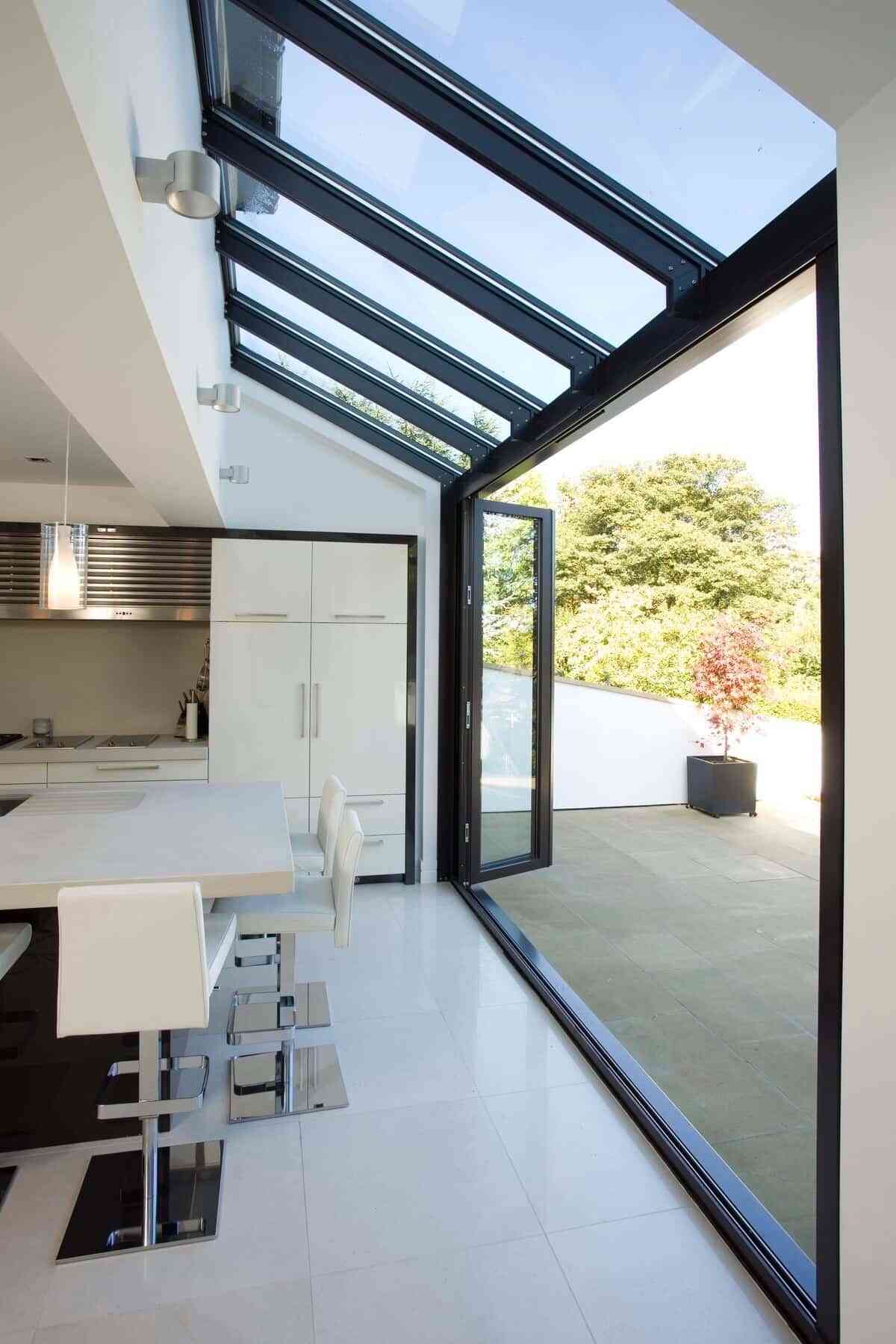 Place some sliding or folding doors glass is a great option for take advantage of sunlight and win in visual depth. In addition to getting a direct connection to the outside.
The most recommended is orient furniture to the exteriorr to enhance the garden or terrace. Installing an island is a fantastic way to separate environments.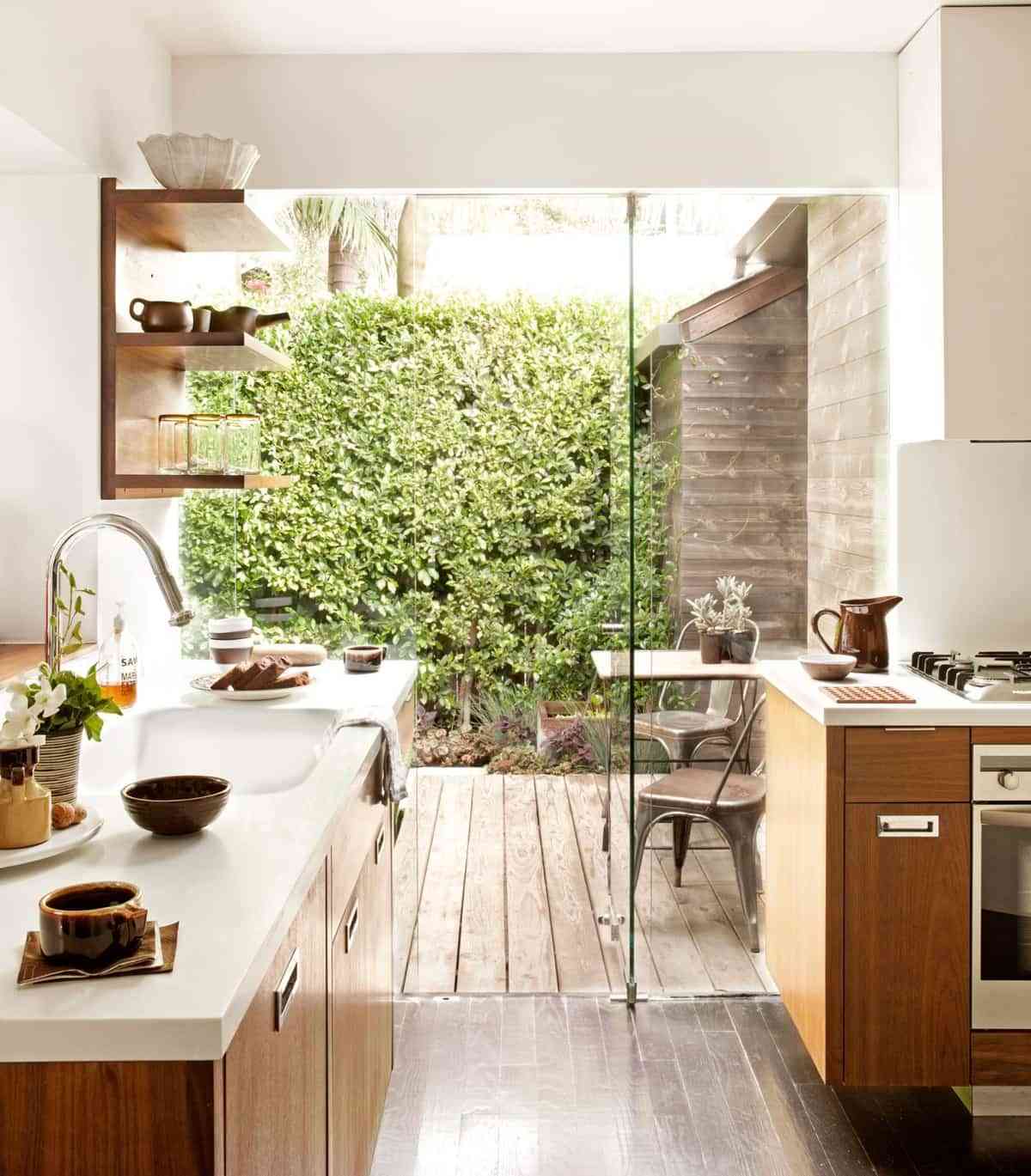 Having kitchens open to the outside is not only an exclusive luxury of large residences, but also of small spaces. It will only be necessary to replace a wall with a glass wall.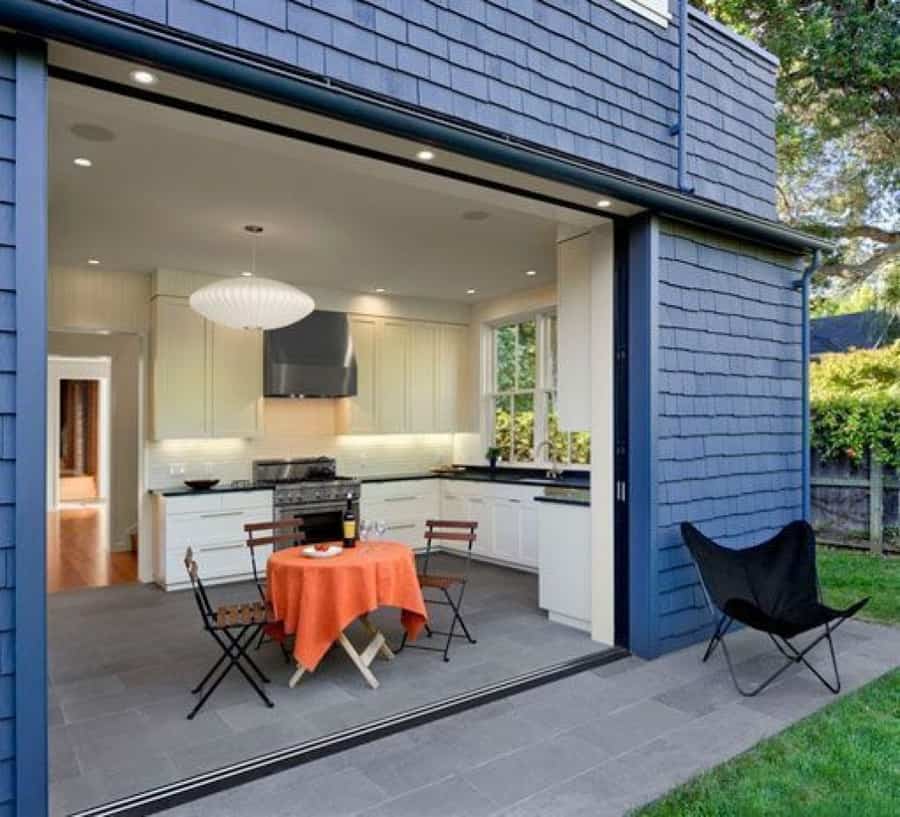 It is important when designing a kitchen open to the outside make the most of the space available to get functional and cozy environments.
You may be interested in reading: Outside kitchen overlooking the garden!
What do you think of outdoor kitchens? If you enjoy cooking outdoors, do not hesitate and bet on them.