At the present time we are in a crucial situation with respect to energy saving. On the one hand we must save on electricity consumption to save facing the current crisis in Spain and almost the entire world, and on the other we must save energy resources to reduce pollution and curb climate change. For these two reasons this lamp has arrived at the right time.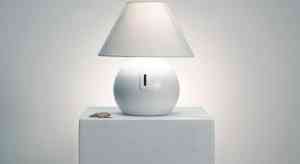 As you can see in the image, it looks like a piggy bank, but what it really is is an "ecological" lamp that works with coins. Every time we want to turn on the light we will have to introduce a coin and it will illuminate us during a programmed time by an internal mechanism. Your designer, Jethro Macey, has wanted to show how much it really counts to have the light on.
In addition, its economic and ecological function is not incompatible with aesthetics because its design is simple, in white and simple shapes, with versatility to integrate into any environment. It is not yet for sale but it seems that soon it will be.
More information: Jethro Macey
Via: Total Home