Today I want to transmit a little bit of creativity, I want to show you what you can achieve just by letting your imagination and if I transmit to you with these ideas a little bit of inspiration I will be satisfied.
The images really incite crear, in invent...
If you like to sew or at least dominate the sewing machine, it will be very easy for you to materialize this idea. It is about applying the patchwork technique on cushions.
If your knowledge about sewing allows you, you can create your cushion from 0. However, if your knowledge of sewing is basic, you can apply the technique on a cushion already made, it will be enough to place on it fabrics and things by creating shapes or figures.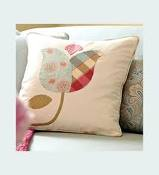 If you do not master the sewing machine very well but you love doing crochet This can be a very good project:
If sewing is definitely not your forte, do not worry, with just a little painting You can also create very original cushions.
All you need is a design that you like, make a template from that design, a brush and paint.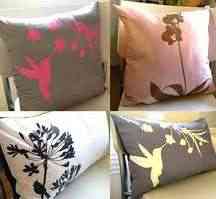 And if what you really like is the recycling and reuse, this is your project. You recycle, reuse and also you can decorate your home with really original cushions.
This idea proposes us to recycle shirts, those shirts that your boyfriend, your father, your husband wants to throw away because he no longer serves or does not like it.
To make these cushions you will only have to use the front of the shirt as the front of the cushion and the back as the back of the cushion. You'll just have to cut two squares, things upside down and enter the padding to your pad-shirt.
Do you dare with any of these projects?