Spring came, color, heat ... and with it the new Ikea designs to set the home in summer. The cushions are a very useful complement because with just change the cover to a pillow we can get a totally different environment, or if you do not take a look at these designs.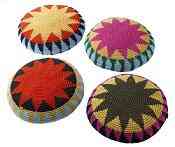 Sommar It is a cushion model with crochet sleeve and made by hand. Each piece is unique and its price is quite affordable: 7.99 €. The filling is made of polyester fiber and the cover can be machine washed.

Floor cushions Greno They are round and very striking. The padding is made of polyurethane foam wrapped in polyester fibers that make it an extra comfortable and durable cushion, it is also reversible. The cover is made of 100% cotton fabric, natural and very resistant. By 29.95 you can have two cushions in one.

Within this same series there are other models with the same characteristics but with variations in the design, like this one in the form of tube.
On the ikea website you can find more models and colors, as well as other furniture and garden accessories.
More information: summer ikea
Vía: ikeando