Francism Cumellas is an entrepreneur who owns a company with the same name and who for years has been engaged in the distribution of carpets of major international brands. For three years he has also created his own collections in which he uses natural materials, always of high quality, such as linen, wool, hemp, silk or polyester, among others. Among them are these two models: Long Ambara and Short Ambara.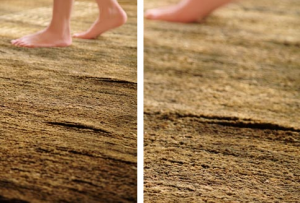 They are two rugs made with hemp fibers of marijuana, perfect for use in rustic spaces and receivers, for its texture and strength. It is made by hand and to obtain the color they use natural dyes, with which each carpet will be special and different. There will not be another like it. The two models differ in hair, Short Ambara is short hair and Long Ambara is long hair.
They are available in natural color, red, stone and gray, and although they have a standart measurements there is the possibility of customizing the size.
In addition to all these benefits Cumella also hides an altruistic function in its production. its passion for animals it has led him to make them the beneficiaries of his talent and he allocates a percentage of his billing to projects and associations that protect and respect them.
Via: Fashion and Home