If you're children's crafts to perform with buttons, today in Decoration 2.0 we tell you how to make this fantastic crown! Just using buttons, many buttons ... we can make a beautiful crown to decorate some doors, a cozy corner. In addition we can also use it as a Christmas motif.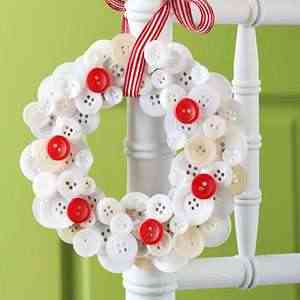 La craft It is quite simple so we will not have problems with the little ones. Within the materials that we are going to use we find buttons, cardboard, scissors, glue and colored ribbons.
The first thing we are going to do is make a circle on the cardboard and then cut it out. We will also cut an inner circle, so it will remain in the shape of a ring. We can do it the size that we want, this will define the base of the ornament.
Once trimmed proceed to paste the buttons, for this we can use specific glue for plastic. We will stick buttons on top of each other making a beautiful composition. The colors will be what we like the most, keep in mind the place where you want to put it, so we will know if the tones chosen are the right ones.
To finish we will decorate the crown with colored ribbons. Remember that if we are going to hang this decorative detail, it is convenient to add a small ribbon or rope and go!