Friends, in other articles we have commented that the color green is one of the most worn this season, since the new year advocates colors of the nature.
The green is inside the new trend, it is a beautiful color whose correct combination will offer us truly beautiful spaces ... but if we do not know how to manage it they can create an authentic chaos in our rooms.
At present we have many different shades of green, for example pistachio green, olive, green hope, apple green, avocado .... all these are tonalities that in its correct application will add to the decoration joy and personality.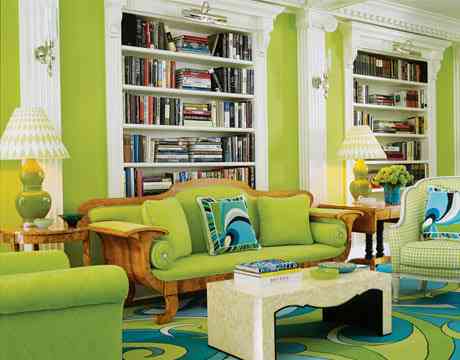 So that our stays are full of life and give a little personality to them, we must learn to combine the green color and its different tonalities.
For example, if the green chosen pulls more yellow, it will be much easier to combine ... it will also add luminosity to the space. If, on the contrary, the chosen green leans more towards the blue one it can be a little more complicated to combine, leaving perhaps cooler rooms.
Depending on the effect or environment we want to achieve, we will lean more towards one side or the other. A nice combination is olive green with brown or purple. From this will come really elegant combinations.
The color pistachio with yellow or orange will give us happy and fresh combinations ... instead the apple color with a nice red color will revive our environments. The color green avocado can go great with the color chocolate or with a nice gray color.
As you can see, the combinations with the green color have a lot of versatility. Think that green can be ideal for a bedroom, as the living room, bathroom, children's room, kitchen ... we just have to know how to apply the right tone.
Remember that we can also play with accessories, textiles, decorative items that invite freshness, contrast and enjoy the decoration.