Tired of the classic orange and monstrous pumpkins? Today we bring you a much more original idea! It's about decorating on Halloween with colorful pumpkins and a nice garland of acorns. Everything very autumnal!
It does not always have to be a gloomy and scary decoration that we use on Halloween. We are already a little tired of the dark colors, the blood and the bugs, so we have decided to bring you a original way to decorate this autumn that will serve you beyond the night of witches and that we found on the blog Minted (One online decoration shop I'm sure you like it as much as I do).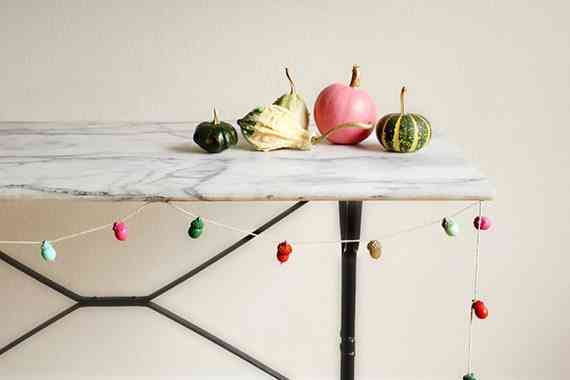 Friends, Halloween is coming, there are only a few days left, and surely you are looking for small and big ideas to decorate your home. Well, look no further, because in 2.0 Decoration we have been looking for years the best decoration ideas for Halloween And here you can read them!
With pumpkins and some nuts you can achieve the perfect autumnal environment, like the one you can see in the previous photograph. And is that Halloween is a very special day that you can receive it with a very special decoration too. You can create beautiful projects using pumpkins. Remember that there are not only one type, those oranges and round ones, with a flattened touch. In the market you can find pumpkins in many different ways, bigger, smaller, with other lines and other colors.
This time we present a colorful and creative proposal that is really easy to make. You will only need:
Pumpkins Large, small, elongated, round ... to your taste!
Acorns or any other dried fruit, such as chestnuts or nuts, which are very typical of the time.
A thin string of beige raffia.
Painting to your liking (4 different colors will go well)
Colorful pumpkins
You can choose a few pumpkins, which are all different (large, small, elongated, flattened ...). Once at home you can paint them in the colors you want: green, pink, yellow ... add imagination!
That's right, before painting them, I recommend that choose a nice color palette to combine them with each other, and also with the garland of nuts that we will do next. A trick to find the perfect combination is to go to design-seeds.com where it poses a lot of possibilities.
But to last longer, I always recommend emptying the pumpkins inside, that is, remove all the pulp and nuggets that contain and let them dry well to work. To remove the pulp you have to open the pumpkin, you can do it in half or make a small lid. Once emptied of pulp and dried, you can paint it. For this I advise, almost always, to use spray paint as this way you avoid that you can get paint splatters.
Cover the areas you do not want to be painted with bodybuilder's tape and use this paint in a well-ventilated or open place. So you can make pumpkins not only one color but several or even with marked lines of other colors. Give as many layers as you want and that's it!
Here you have another example so you can see other possibilities when painting the colorful pumpkins: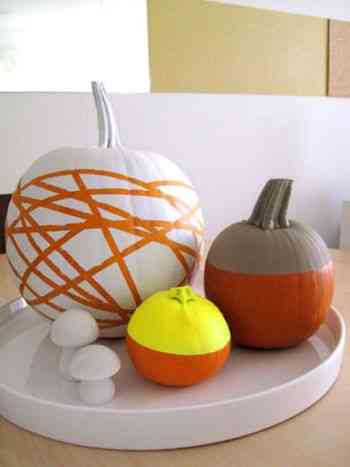 A garland of acorns
Another ideal complement for autumn or Halloween decoration with those made with nuts. On this occasion we propose a garland of acorns painted in colors, and combined with pumpkins.
You just have to paint them one by one combining the colors as you like, and when they are dry, join them with a string of raffia.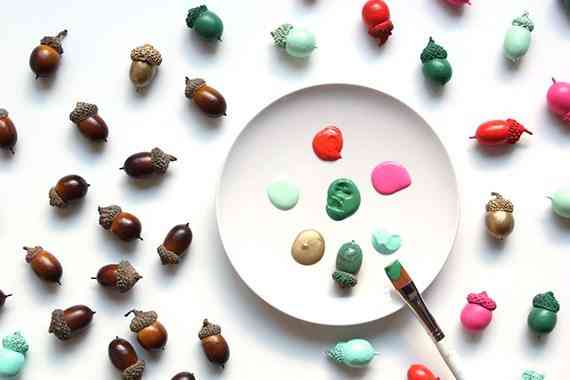 As you can see, it can be ideal in any corner of the house. You only need to make a good color combination and it will be an ideal decoration for that white and empty wall of your home.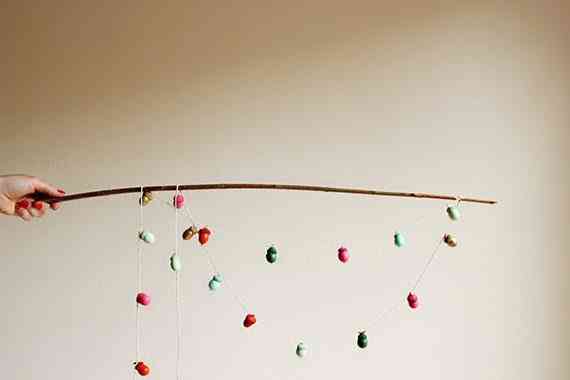 What do you think about these two crafts for Halloween? I hope you like them as much as I do. You can also take a look at the rest of our ideas for Halloween, among which you can find: ideas to decorate the garden on Halloween, the step by step of How to decorate a classic Halloween pumpkin or ideas for decorate the Halloween napkins, Among others.