If you like Crafts and you want to decorate some room of your house with an original design and with a certain romantic air, the idea that I propose today can serve you to give that 'touch' different and personal to the corner you want to decorate.
The idea is combine paintings and furniture with the same pattern. These are the steps to follow to achieve it ...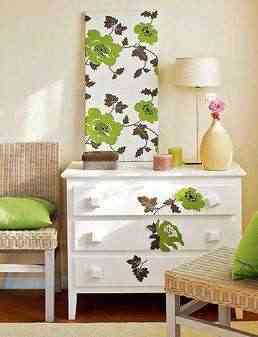 What you will need is:
Canvases or frames
Stamped paper or printed fabrics
Scissors
Glue
And these are the steps to follow to achieve your decoration:
If you have a canvas, what you have to do is place the fabric or the printed paper carefully and then staple it in the back. Notice that there is no wrinkle or imperfection in the front.
If what you want to decorate is a frame, you will only need to cut the paper or the fabric the same size as the mat frame and paste it. In this case you should also be careful to avoid wrinkles, air pockets or other imperfections.
When it comes to decorating the furniture what you should do is cut out some of the drawings that form the pattern of the fabric or the printed paper. Make sure to cut the drawing very well by the edges.
Once trimmed, you just have to apply a little glue and place it on the furniture. Think before you paste it where you want to place each drawing, in this way you will avoid setbacks.
It's as simple as creating a painting and decorating and combining your furniture with the same designs. In addition, this is an idea that you can apply to any decoration and any room in the house: in children's bedrooms, in bedrooms, in the kitchen, in reception rooms, in outdoor furniture and decorations, in bathrooms ...