It is a pleasure to enjoy meals and dinners outdoors in the summer months. Whether on a terrace, small garden, next to the pool or under a pergola ... Any outdoor space is suitable for locating the summer dining rooms.
Advantages of outdoor dining
In summer we enjoy meals and dinners outdoors. Any opportunity is good to be able to share with your friends and family unforgettable moments. Eating outdoors has many benefits for our health.
Se reduce stress levels and disconnected from work.
Breath pure air It helps us feel better and more relaxed.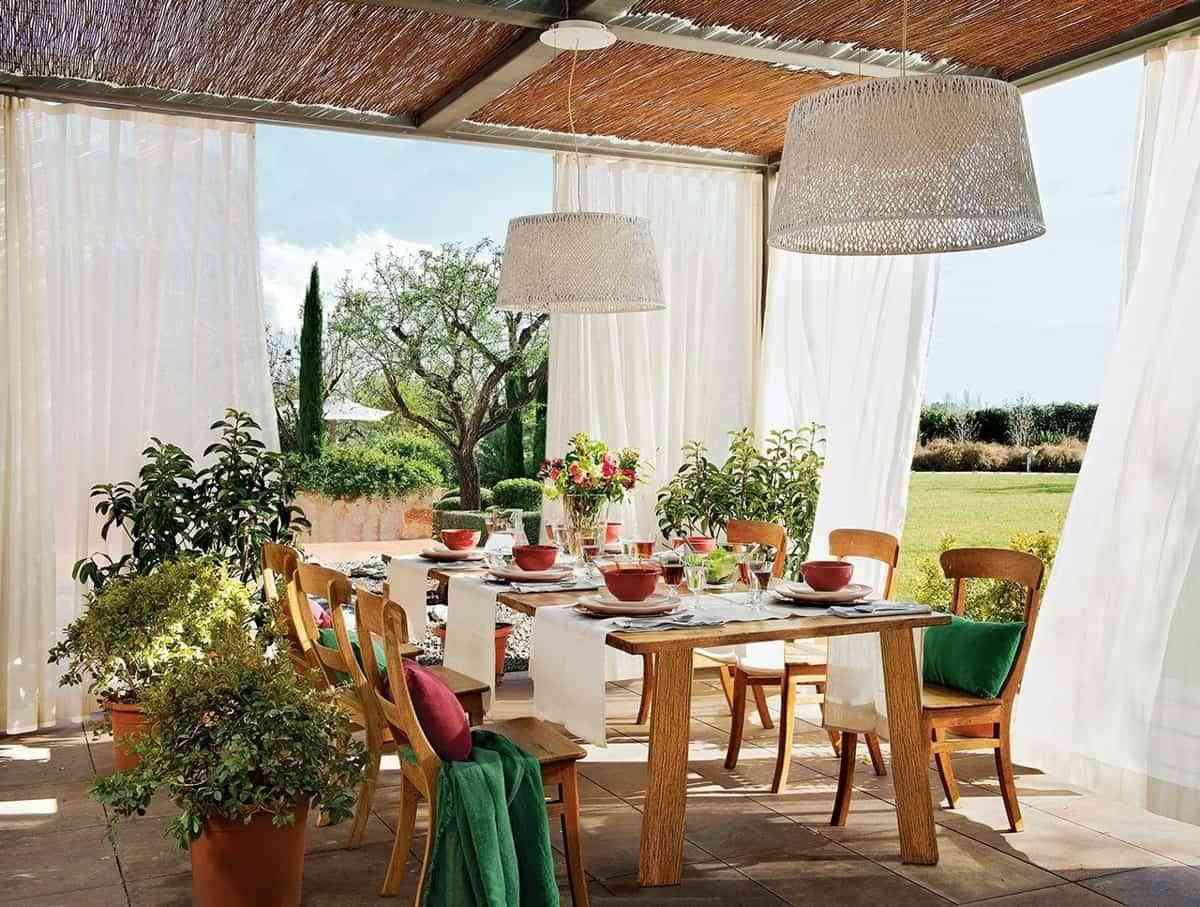 It is proven that eating outdoors promotes digestion, so the food feels better.
A table setting in a harmonious environment and relaxed causes a decrease in negative thoughts or worries.
Fast eating promotes overweight and obesity. So relax and enjoy the scenery and the food or dinner.
Where to place an outdoor dining room?
You must Take into account some factors to locate the summer dining rooms. From the best location, the dimensions of the space, the capacity, the furniture and the most suitable materials.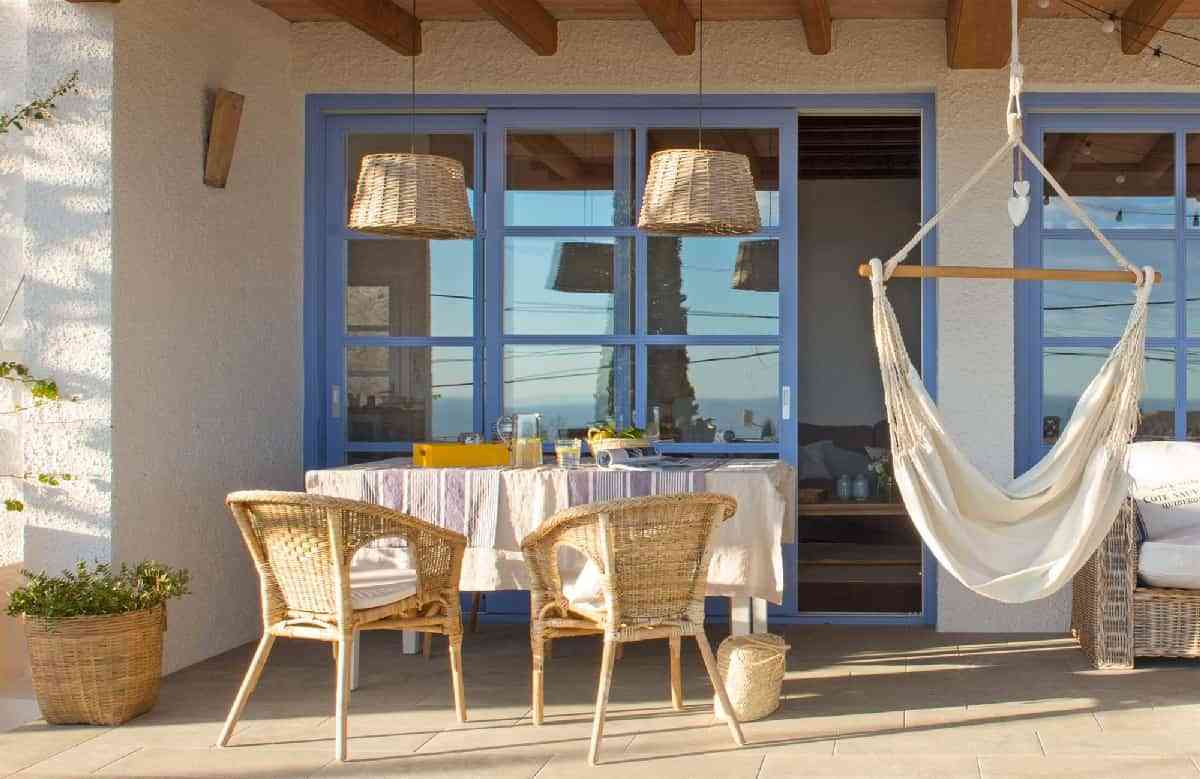 The outdoor dining room should be in a shaded area to be able to use it both day and night, sheltered from the sun and the wind.
If you do not have a porch or pergola, you can resort to parasols, awnings, candles They are very practical and do not take up space when folded.
Place the outside dining room next to the kitchen will bring greater comfort and speed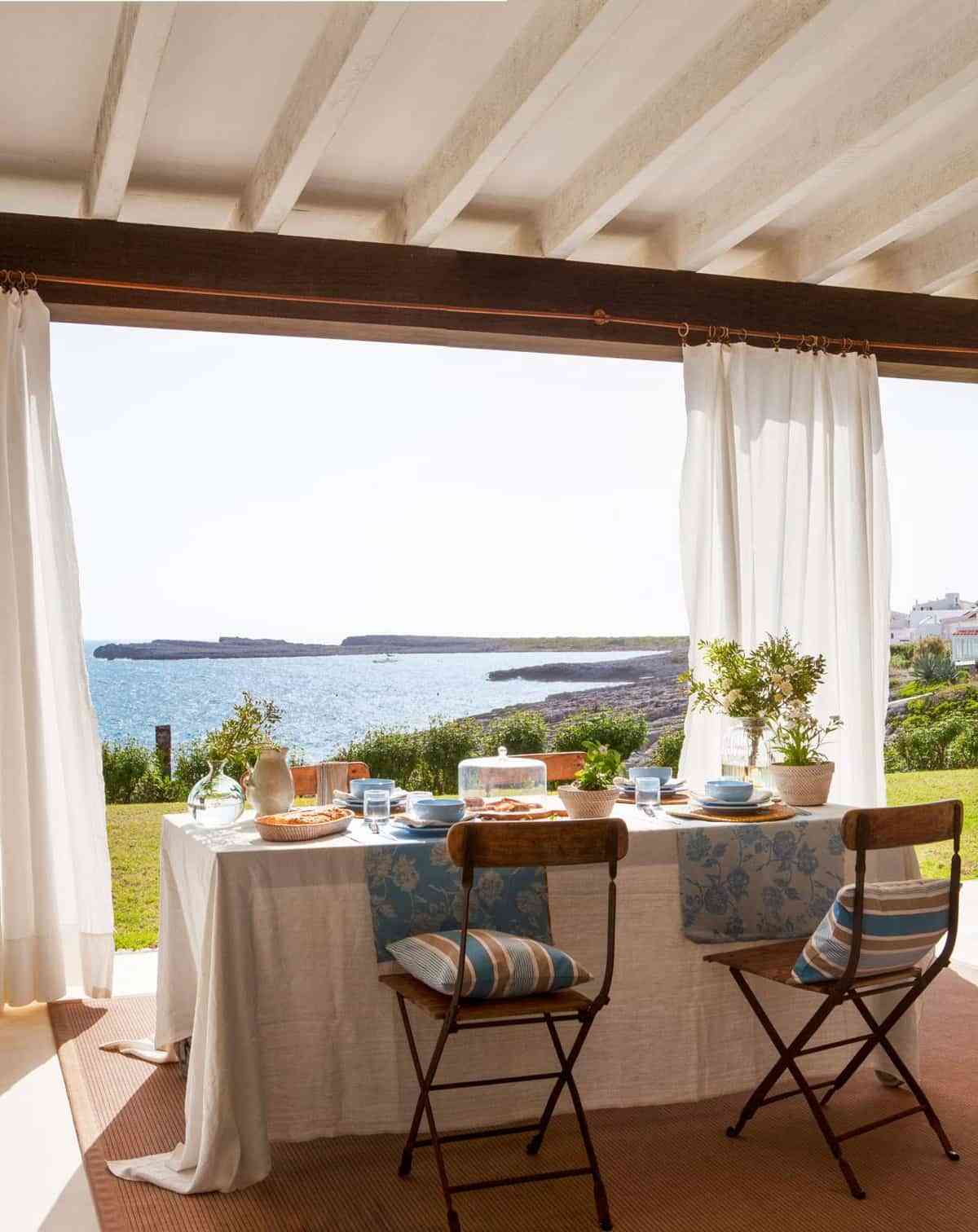 The curtains, blinds and lattices They are very useful because they protect from the sun, from the air currents and also they give privacy to the summer dining rooms.
In the interior dining room, aesthetics tend to predominate, while on the outside what counts is the functionality. The materials, furniture, accessories and textiles must be resistant to inclement weather.
Versatile equipment
The dimensions of space to place the summer dining room will be the first condition when choosing the furniture. They must also adapt perfectly to your needs and tastes.
EThe size of the table and the number of chairs It will depend on how many guests you receive daily.
A fantastic resource is to choose a extendable table and folding chairs for special occasions you receive guests.
If the dining room is not near the kitchen it is advisable have a support area that reduces travel, with storage to store crockery, cutlery, linens, kitchen accessories ... A small outside kitchen It will be perfect to prepare light meals so propitious at this time of year.
Decorative styles of outdoor dining rooms
Rustic style. It is one of the most used to decorate and dress an outdoor dining room. Bet on the natural materials like wood, stone ... vegetal fibers They are appropriate to give a natural touch and warmth to the exterior decoration.
Chill Out. This style is ideal for pprovide relaxation and comfort. The bright colors are suitable to give an accent of color and joy. Outdoor cushions and curtains they are perfect complements to give a touch of freshness. The scented candles They will provide a pleasant aroma and give the space a special air.
Types of materials for outdoor dining
When choosing the furniture for outdoor dining you should keep in mind several factors. You must choose resistant materials out in the open and with simple maintenance.
Resin furniture. One of the fundamental characteristics of this material is that does not require maintenance. It is very resistant to sun and moisture. Nowadays, the "thermoforming" technique allows to create models of great quality and design. You can find a wide range of models that highlight the light and stackable pieces.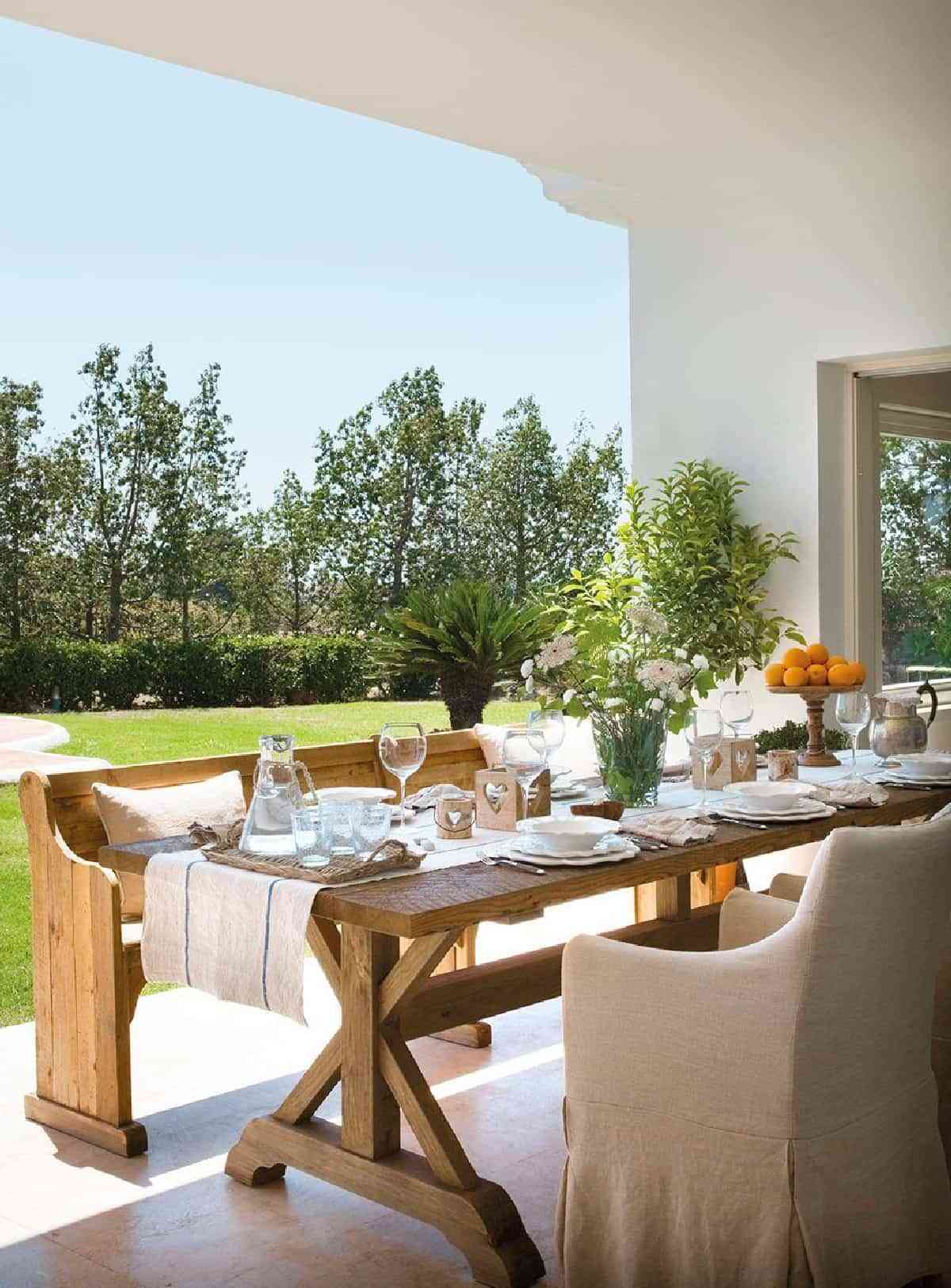 Wood. The furniture of this material are timeless and elegant Rustic and urban environments adapt very well. But they need some special care and maintenance being a live material. The teak wood It is the most used for its resistance, hardness and resistance to moisture, temperature changes and insects.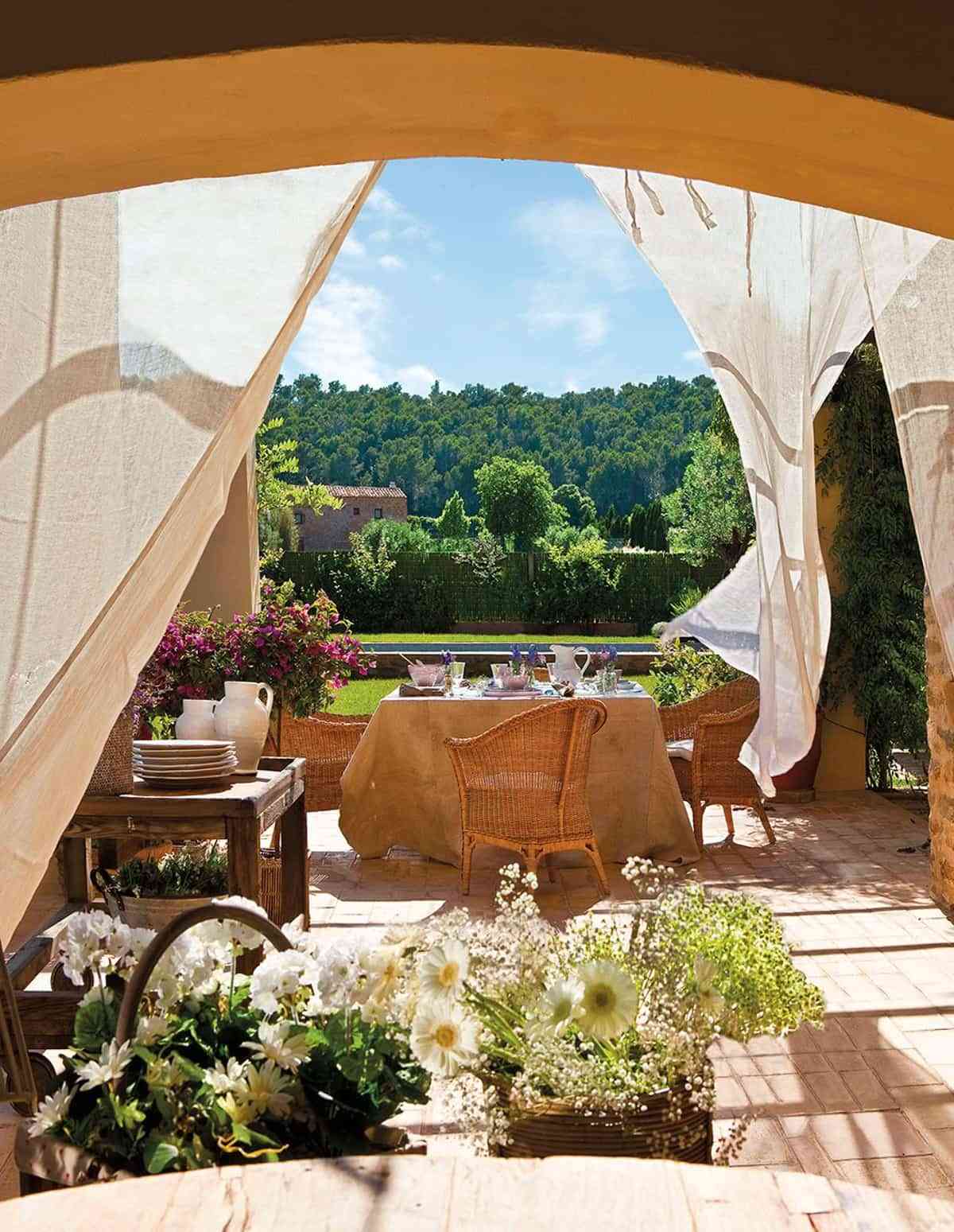 Vegetable fiber. Wicker, rattan ... are suitable for outdoor furniture. They are resistant but they must protect yourself from direct sun exposure. Synthetic fibers perfectly mimic natural fibers but are made of metal wire coated with resins or polyethylene. You can find a wide variety of colors so they can be well adapted to all decorative styles.
Aluminum. Summer dining rooms with furniture made of this material are widely used.
Forging. They are perfect for rustic and classic decorations. They have been losing ground due to their maintenance requirements (to prevent and repair oxidation).
You may be interested in reading: Round tables as a solution to small dining rooms.
Have you found these ideas interesting to install and decorate the summer dining rooms?