Are you looking for a modern lamp for your dining room or living room? The lamps give character space and we propose you to create a modern lampshade with your own hands, an ideal and practical craft to surprise your guests.
To have a lamp like the ones we see in the image, you do not have to go to any decoration store avant-garde or spend too much money. On the contrary, we can do them ourselves at home and in the simplest way. Of course, we must arm ourselves with patience because we will need a little time and skill.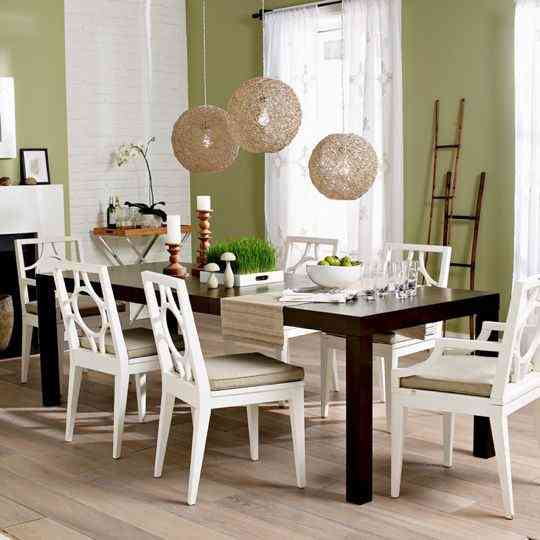 Material to make a lamp shade
The materials we will need are:
Plastic ball It can be an inflatable beach ball that we can then deflate or a balloon that, when punctured, disappears.
Packing thread or raffia. Find one of good quality and a color that you like.
Carpentry glue or white tail.
In addition you should look for a tablecloth or an old cloth to work on it and gloves so as not to get dirty with the glue.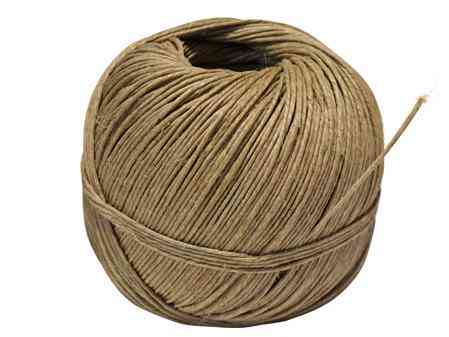 How to make a raffia lamp
The first thing we should do iss mark a hole in the bottom of the ball or balloon, as we can see in the following image. As for the size of this hole, we must take into account that the ball should go out afterwards and then insert the bulb. In addition, this must match the small hole that these balls bring to deflate them. In the case of balloons there will be no problem because when you click it it will go anywhere.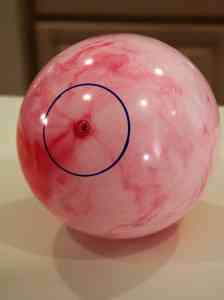 Once the hole is marked, we must prepare a container with glue, wet the yarn and run the ball with laps in different ways so that the thread completely covers the ball and intersects in its turns.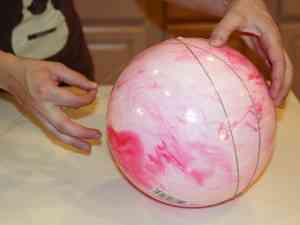 We must keep in mind that the more turns we give with the stronger and more compact thread, the lamp will remain, so do not hesitate insist and give several turns. That is, we must not forget that the idea is that light passes between the gaps, so some will have to be free to have its functionality.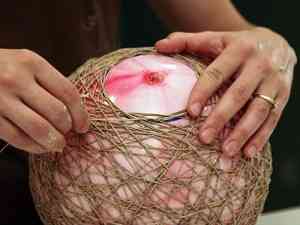 We continue like this until we completely cover the ball, and once finished, we check if any thread has not been badly stuck, in that case we correct it by adding more tail. Then we let it dry for two days so all the layers dry properly. Do not try to dry it in any other way, like a dryer, because if you try to do it faster the process can be complicated and it is possible that the lamp is weakened. Be patient with drying if you want a good result!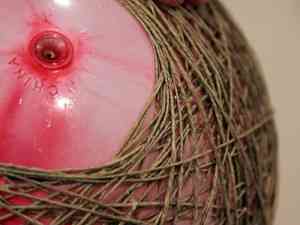 When it is completely dry what we will have to do is deflate the ball and remove it through the hole that we have previously left. At that time we will have our full and finished screen to use it.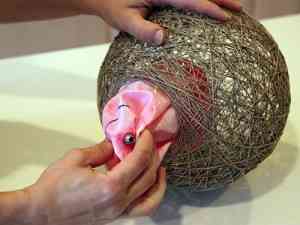 So that the installation of the light is correct you will have to look for a lamp holder that fits to put it next to a light bulb and you will have your new and modern lamp ready to be used.
What do you think about this web idea? Craftynest.com? We found it lovely!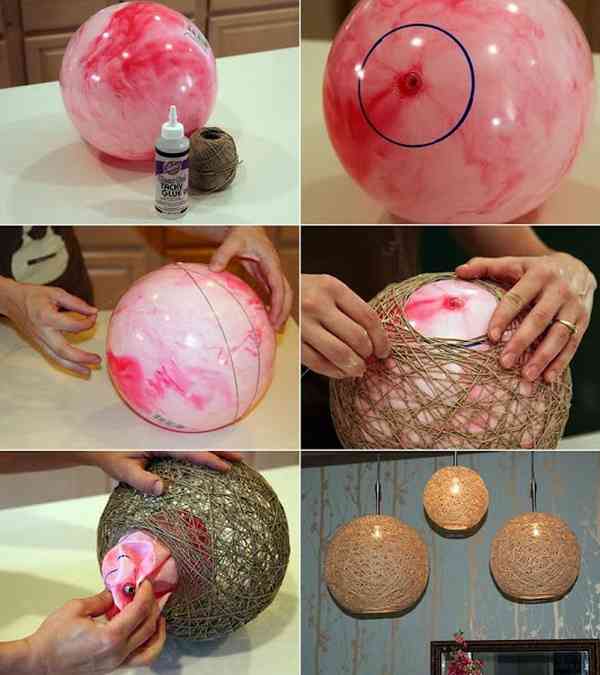 Other handmade lamps
There are many other possibilities to do handmade lamps in a more or less simple way. Another option using a ball or balloon in the same way as the previous one is this one that you can see in the image with paper circles. What's more, to give it a more original touch you can use old maps or decorated scrapbooking papers. The technique is basically the same, with glue, a swollen ball and some patience.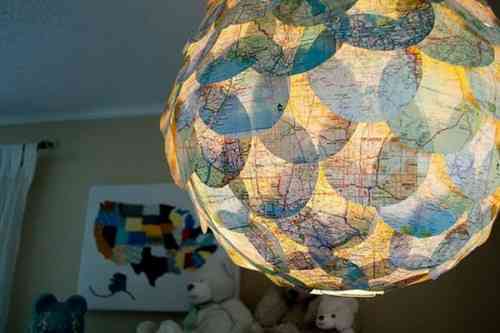 Another similar option is the one you can see in this photograph where the paper circles do not stick completely but only half of the circle sticks leaving them loose as if they were flower petals.
If what you want is a table lamp matching with raffia that you have already done you can choose to use a rope or the same raffia to line the base or the screen of the lamp. It will be as original as the ones you can see here below!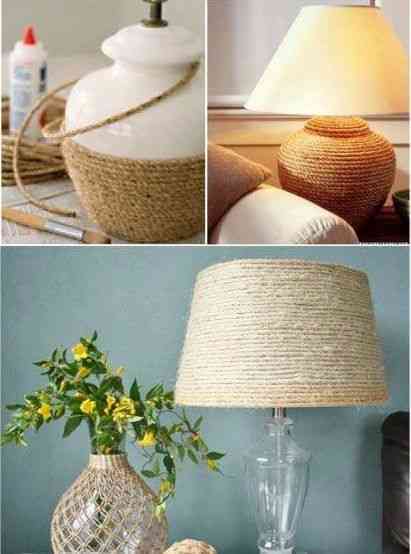 What do you think of these ideas? Do you encourage to develop some? Do not hesitate to tell us what happened to you, if you have any doubts, share them with us! And if you have any other idea for a handmade lamp, do not hesitate to tell us!