Everyone dreams of having a big kitchenbut if the space is too wide, it can become cold and impersonal.
Although there may be a lot of space for cooking and eating, the kitchen will be more attractive to the family and the guests if we place the correct variety of food in it. decoration accessories.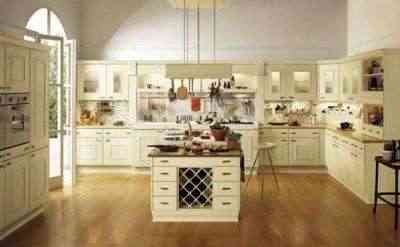 One thing we can do is fill up all the extra space, for example, with some furniture and even with personal collections. The kitchen is a great place to showcase your collections even if they have nothing to do with that environment. You can use racks installed on the walls to exhibit them.
Accessories can make a large kitchen more comfortable. For example, you can use several plants in pots to increase comfort. You can also use large pieces of decor like porcelain vases, tapestries and even some architectural pieces that match the decoration.
Lighting is an important element in any kitchen and, therefore, larger kitchens require special care in the placement of the lamps. One mistake that many people make is to buy lighting that does not match the size of the kitchen.
If you have a large kitchen, you need to buy lighting accessories Large size. Do not forget to install lighting at the counters for cooking and preparing food.