Today I present a brilliant idea to decorate the candles for the next Christmas 2019. Although in the image we can clearly see that the number is the 2019 ... it is evident that we can change it to any year, you can even put letters and not numbers!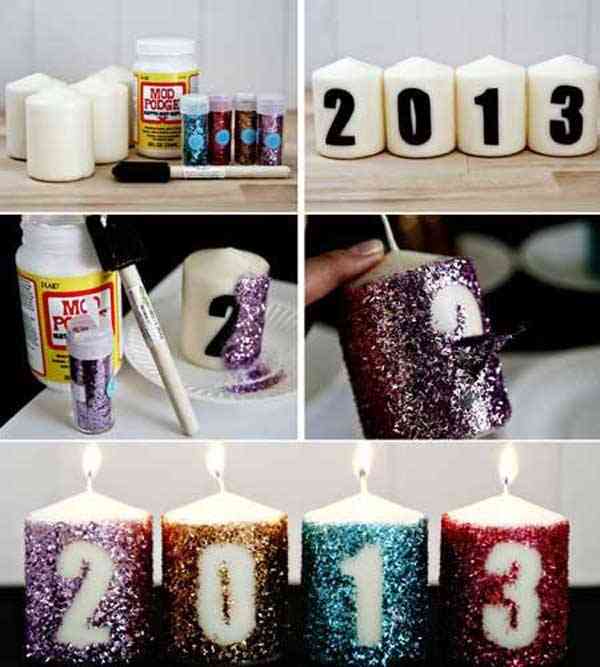 Bright candles for Christmas
As we can see, they are covered in glitter and NOT glitter. Glitter can be found in many different colors and also in different forms. Some, besides those tiny squares that make it up, can also take shapes like hearts, stars and others. The glitter is white or transparent, so in this case it does not work for this Christmas craft.
The materials that we will need, therefore, are:
Purpurin
White candles
Vinyl or carpenter's glue
Bodybuilder tape or electrical tape
And now we show you the step by step to turn a simple white candles into these Christmas decorations to decorate your living room and that can even serve you for a Christmas centerpiece Really beautiful.
To start, Choose the color you like the best glitter and get to work! Only a few candles are missing, they can be the length and thickness you want. In this case they are rather thick and not very long, this way you can put the number more easily.
In addition, we will use vinyl or carpenter's tail to fix the glitter to the candle itself. On the other hand, we have to make stickers with numbers or letters or we can make those shapes with bodybuilder tape or insulating tape. These stickers are fixed directly to the candle to keep that candle area free of glitter.
Then with the help of a brush, see the whole surface of the candle impregnated ... all the outline and not the area above (in case we turn them on). Once filled with glue everywhere except the number, you just have to bathe the luminary by the glitter, do not cut yourself! It happens again and again, rolling, and with the help of the palm of the hand, better if it is with gloves so as not to impregnate yourself with glue or glitter.
When you finish, shake it a little to rid it of excess, and then let it dry. After a few minutes, you can remove the sticker of the number or letter that we previously placed. Remove carefully and the entire contour will be perfectly defined. As you can see, it is quite easy to do, and you can create candles of different colors and mark some numbers or letters. A perfect idea for festive Christmas environments.
We hope that this Christmas craft with glitter you liked it as much as we do and put it into practice this Christmas 2019. Remember that just like you can put the year «2019» you can also prefer to put messages such as «Christmas», «Happy New Year» or something similar. You will only need one candle for each number or letter, and place them well so that everyone gets the Christmas message that you have decided to show.
Do not forget to share in the Facebook group Do it yourself all the crafts and DIY that you do this Christmas to decorate your home. We would love to see your work and the rest of the group members too!