With the following ideas, I propose to organize and decorate birthday for children. Cute, original and fun ideas for the little ones in the house
In this article, I mention some things you can consider, to decorate birthdays for young children and not so small. These ideas are great to give a different and original point, but at the same time maintaining order and organization of the event.
Organize tables according to space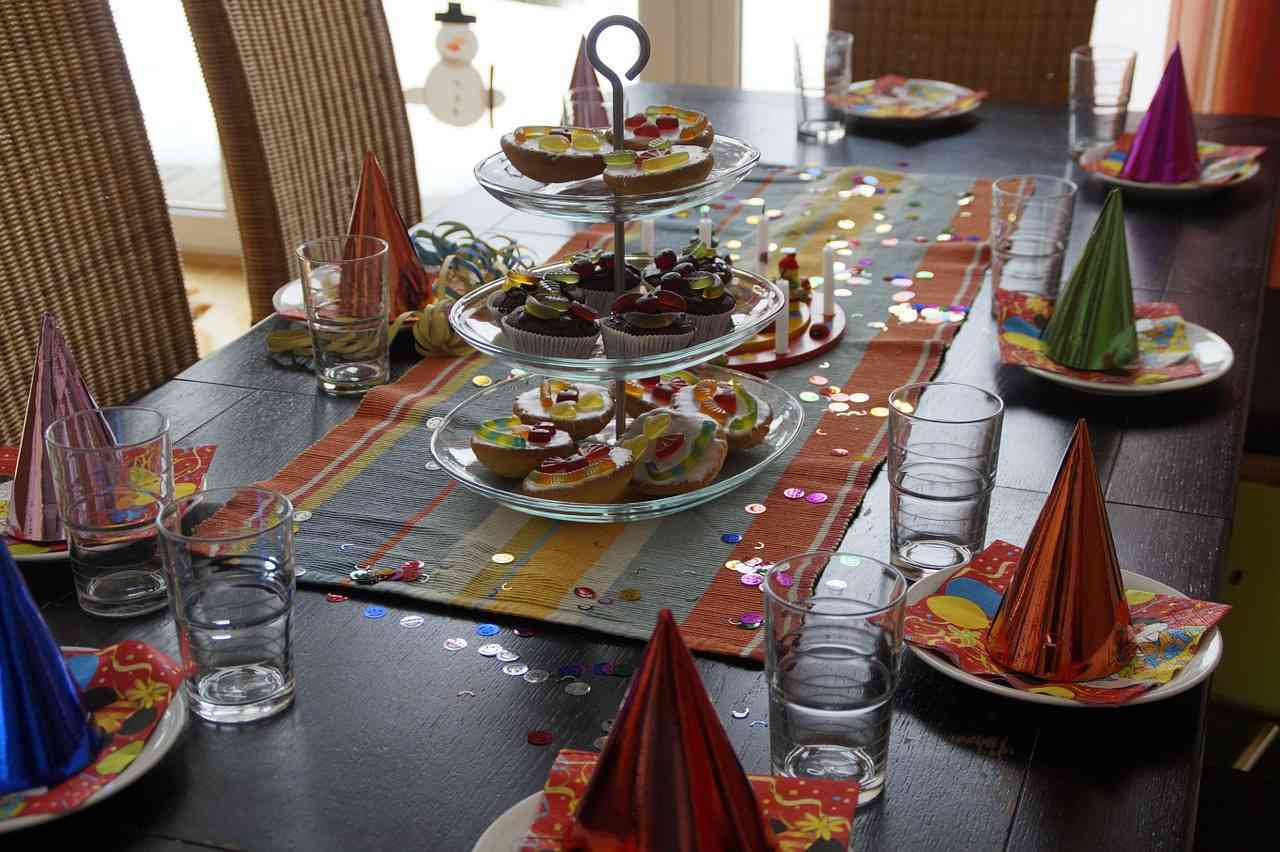 Where are you going to celebrate the birthday? It is an outdoor space or on the contrary, you are going to celebrate it inside your house. If it is indoors, it has the garden as an extra area for games or for eating outdoors. But, if not you have a garden or a patio, you have to distribute the table or several of them, in a way that does not bother when passing, when running and when moving, you know that children run around everywhere!
Inside the house, you should do something simple (especially if it's not very big) First organize a buffet table (If you prefer that the guests are walking around the house, with music, food, drink and fun games) But you can add a single table with chairs and all the food arranged in it.
I recommend adding a children's table (can be one or several of them) Place the tables of beautiful colors and complements children with small chairs and suitable for children to sit, while eating (you can also replace them, using comfortable cushions in beautiful colors). Gather the children, on one side and the adults on the other, as a way to organize the lunch or snack (or buffet table), but always without taking your eyes off the kids!
Table of sweets and / or cart of jelly beans?
Are you going to put candy? Where will you put the cake? Do you like cupcakes and cookies? If you are a greedy devotee, an idea to decorate these parties and add that touch of color and sugar, is to set a dessert table. This table, You can also replace it or change it with a candy trolley. This type of cart, you can prepare it yourself or order it from a company. They are lovely decorative solutions and deliciously sweet, you can put both inside and outside the house.
When decorating children's birthdays, there are many different possibilities. In the video, I'll let you see how a dessert table is made step by step very simple! The color chosen is pink, but you can change it or combine other colors that you like more. The idea is decorate a table and turn it into a whole candy area, where to add cookies, biscuits, cupcakes, sweets ... and the birthday cake of course!
If you have never prepared a similar table, in this video you will see all the steps. Now, you have no excuse for not preparing a nice table for the birthday of your son or your daughter What do you think? Of course, it can be made smaller or bigger. The lining of the wall, can go in another color or add a mural behind.
Right from the start, Check how to make a dessert table for any kind of celebration. In addition to birthdays, it can also be used for anniversaries, weddings, baptisms, communions ... and all kinds of events that you have on hand. With a little imagination, you can get such great things as you see in the video. What do you think?
Decorate with balloons!
Do you love balloons? A children's party, is characterized by the famous balloons of colors ... but in addition to inflating these and spreading them on the floor ... there are many other ways to decorate with them and they are not complicated!
In this case, I leave you a video where you will see how to make a great arch, simulating the ears of one of the best known animated characters MINNIE MOUSSE. The bow is made with balloons in pink and black (sharing color with those of the character). This bow, once finished, will help you decorate both the entrance of the birthday (especially if it is outdoors) or to decorate the background of the candy table (ideal for indoor or outdoor)
This time, the character is Minnie, but you can also change it for another that you like your son more ... all you need are the colors of the doll and some details, so you can see that he is dedicated to that special drawing. What do you think? Have you been inspired?
A pirate birthday!
Handkerchiefs, hooks, eye patches, swords, plastic daggers, chocolate coins ... Hidden treasures! Why not organize a pirate party? Decorate the space, as if it were a ship or a pirate's lair. With some infallible details, there will be a party of the most bucanera
Make a costume party, it is very fun and more if adults also dare to do it. The idea is to go all dressed as pirates and also add items and accessories to your home to set the space to this theme. One idea, is to put Chocolate coins in a cloth bag and hide several in the house for children to find. If you already make a map, you will see how well they spend it.
Another great idea, also with chocolate coins is put them on cupcakes, birthday cake or other cakes They will give a very pirate touch! Oh, finally, the "pirate" flag must be done too. You can design it before, to decorate the party or to do it as an activity with the children.
Do you like superheroes?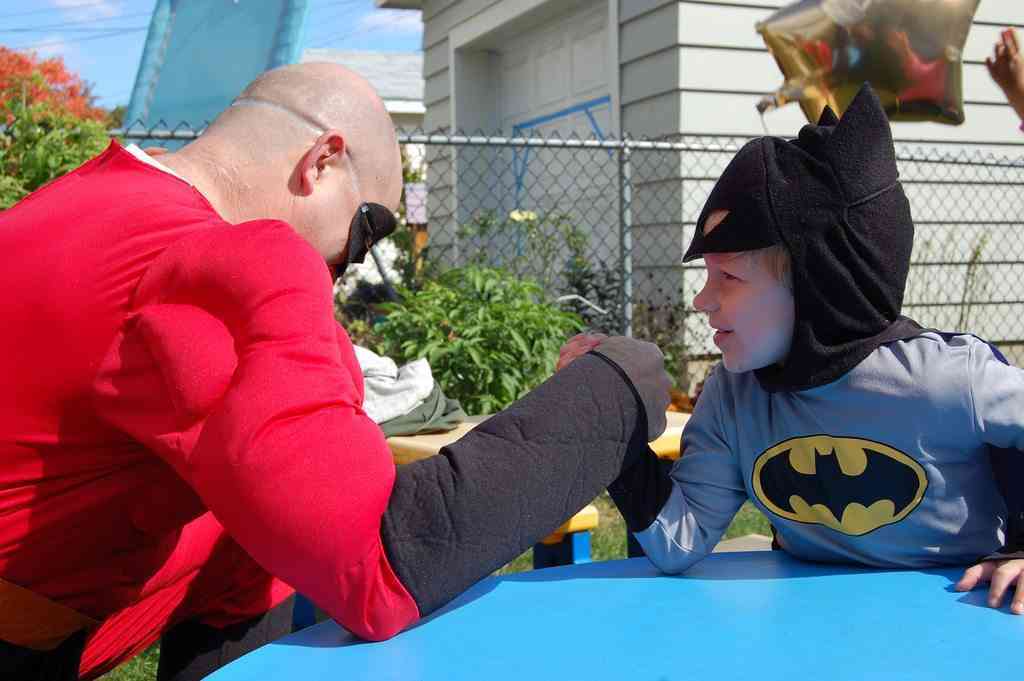 A good themed birthday, I love it What do you think of this photograph? Like the previous point, a superhero-themed birthday will look great. Add details like a cake of your favorite character and create a totally superhero-like atmosphere.
Pool of homemade colored balls!
In this video, I propose the idea of ​​making a homemade ball pool How? It's very simple, just buy balls and fill a small pool that you can place everywhere. If you have more space, you can make it bigger. Grab the pool for summer and fill it with balls of all kinds of color, you can even add surprises underneath for the most intrepid kids.
In this video, you see a girl (not exactly dressed in birthday) having a great time with one of these homemade pools. So imagine the atmosphere you can create, when decorating a birthday for children. What do you think about the idea? What other ideas could you contribute?
More ideas to decorate a children's party and get success