The candles are perfect for create relaxing environments, romantics ... and if we make their light radiates through precious crystal centers made by us we will obtain a highly personalized environment.
En HowTo do Jose Luis shares an idea to incorporate beautiful candles in our decoration with a Support decorated by ourselves.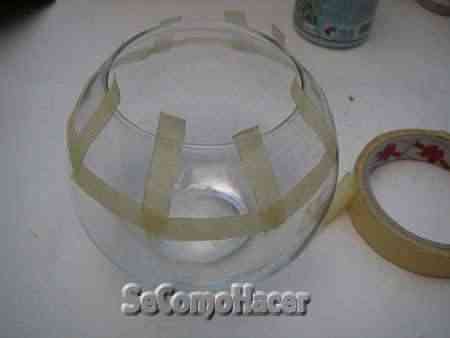 Do you know the typical glass tanks? Well, this craft is made with one of approximately 12 cm. This is the one that will serve as support for the realization of the lamp in whose interior we will place one or several candles.
We take the fish tank and we will do divisions to our liking, that of this craft has eight sides and they are a little above the center of the height itself. To make the divisions we will use bodybuilder's tape.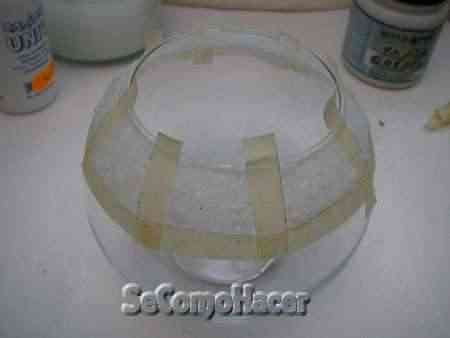 The next step is to apply, in the same divisions, glass paste; It should be an abundant layer so that it is very much highlighted. Let it dry, until its finished be of grainy texture... this is the effect sought in this lamp.
In the lower part of the fish tank, they have made a kind of waves finished in peak with the same crystal paste ... it is not necessary to measure, we can make them of different sizes in this way we will remove symmetry to the decoration.
With lacquer for light bulbs, in this case orange, we give about glass paste and we can remove the bodybuilder's tape.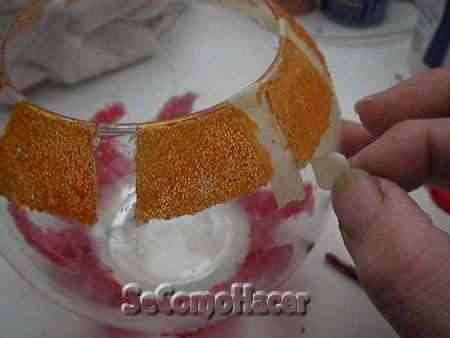 With the help of a sponge we will apply liquid gold in the center giving little touches, without covering too much. Before the paint dries we can make some to our liking with the help of a rubber brush, so as not to scratch the glass.
In the photo you can see how the waves below have been painted lacquer for red bulb and touches of this have been made on the filigrees -made with the brush- and the liquid gold, once dry.
It is done! We have ready our centerpiece! Now it only remains introduce one or several candles and we see the result obtained. These are just some suggestions for decoration, when we go to make this craft we can decorate it to our liking and experience forms. What do you think?