The beacons, those beautiful wax headlights that will illuminate the corners darker of our homes, can now be an easy craft and an unbeatable finish.

The materials what we will need to make our own homemade fanal will be.
200 g paraffin

200 g of stearin

Colorants for candles, in this case, red and black

Thermometer

2 cylindrical molds of different diameter

Release agent

Spoon
*Note. The colors, molds and measurements will be variable depending on the type of lamp we want to make.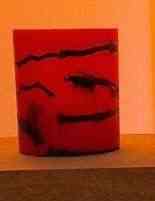 To start we will apply a little demolding liquid inside the larger mold and also on the outside of the small mold.
We will take one part of paraffin and we will dye it with the black dye or the one we have chosen -the bathroom. Then we will pour drops of this mixture, with the help of a spoon, into the inside of the big mold; we will have to shake it so that the lines or the drawing that we want are formed. This will have to repeat it from two to three times until we have the desired design.
After that we will fill the smallest mold with water, in this way we will be giving you weight. The mold we will place inside the big mold.
The other part of paraffin we will dye it with red dye and we will mix it very well, when reach the 80 ° C we will take the stearin and we mix everything well again.
Let the mixture cool until reach the 70º C approx. And we will pour gently between the two molds. This we let it cool.
Once cold we will remove the internal mold. In order to form the floor of the lamp we will have topour a layer of paraffin, in this case red, until it reaches 1 cm thick approx. This we will let it cool and we will demold it.
Last we will place the candle inside the lantern... and that's it! Our own homemade ornament with which to illuminate the darkest nights.