The chain of furniture and household equipment Conforama has decided adapt to new buying environments by launching a new decoration online store and furniture faster, easier and safer, where in addition to finding detailed information on all your products, you can purchase and receive them without having to leave your home.
Sofas and living rooms, bedrooms and mattresses, arrangement and office, kitchens, decoration, large domestic appliance, image and sound, and small household appliance are the different sections of products that you can find in this online store, in addition to all downloadable catalogs, information on physical stores and promotions, offers and exclusive collections of the online store.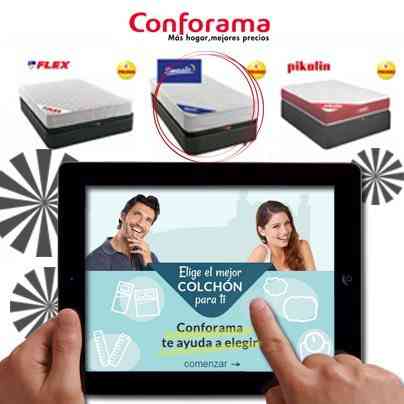 But without any doubt, what has most caught our attention in this new decoration and furniture online store is that Conforama, with his years of experience in the sector, has created a online advisor for the choice of certain products in which, in addition to their design, price and color characteristics, we have to take into account personal and health factors.
For example, the mattress online advisor After answering a brief test on how you sleep, your height and imprisonment, your preferences regarding textures and hardness, the use that will be given to the mattress, the position you use to sleep, among others, will automatically make a selection of mattresses that More fit your needs. Do not you think it's great?
In addition, in this store you can find products of the most recognized brands in mattresses, appliances and televisions such as Flex, Pikolin, Taurus, Teka, Fagor, Philips, LG, Tefal, Balay, etc. And at the best price!