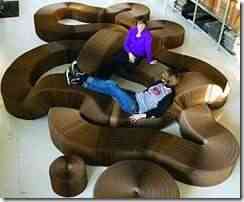 Flexibility, resistance and freedom of movement are the essential characteristics of the molo "soft" line.
Inspired by the Japanese technique of origami, which consists in the art of cutting paper, and in post of a highly avant-garde furniture line, the Canadian company molo design banks, poufs, walls and candelabras in polyethylene, which is a plastic polymer Low cost and high resistance.
The material was cut following the shape of a hive, which enhances the flexibility of the piece and facilitates its assembly and disassembly quickly and easily.
This collection was presented in the month of April at the international fair in Milan, caused so much commotion that the brand did not hesitate to present it in another of the world's great furniture showcases we talked about the ICFF in New York.
And who had the opportunity to appreciate them I observe that the same composed of plastic materials and high resistance paper mixed with polymers, resist not only the avatars of daily life but climatic factors as important as water and sun, which makes this type of furniture in an avant-garde solution for our outdoor spaces.
Another important feature of this furniture is that it is built in 100% recyclable material, its playful aspect does not go unnoticed and its easy adaptation to different environments makes it an outstanding alternative, expanding in large places and consequently reducing in small spaces.
Exploiting these characteristics, the brand designs walls, screens and space separators that can be stretched depending on the needs of the occupant and manages to join together with magnets.
Softwall
In the case of the walls, you can build true labyrinths similar to the labyrinths that we find in the palaces and castles of the feudal lords.
The particularity is that the piece is able to expand up to 16 meters and then be able to contract and save as if it were a simple cover.
Softseat
Banks or poufs are built on the aforementioned materials so that they respect their essential characteristics.
Through individual pieces joined by magnetic contacts you can create benches and poufs of the size and shape that you consider most convenient, this feature added to the simplicity of your assembly makes the molo desing line an innovative and useful solution adaptable to any space and type of decoration.