Decorate home it is something we can do for ourselves by putting enthusiasm and creativity. No need to do much, some colorful and simple details make the big difference. Today we have color and easy details that you can do for yourself. Nothing less than a cover for pompom chair. That you sure know how to make beautiful pompoms and take advantage of the most enthusiastic colors of the color palette to achieve a coquetry for your chair.
This idea is inspired by the covers of spheres that are used in some parts of the world, those are usually wooden spheres and also have a therapeutic purpose that is, massage the back while you sit to rest on them. In the case of our Chair cover with pompoms, that really is not a blanket because it is placed on top of it as a decorative detail, the spheres or pompoms has no more than decorative purpose ... but we love them.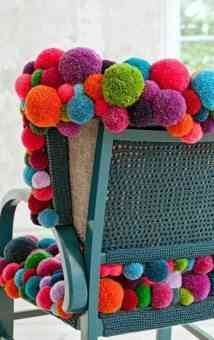 The idea is fabulous you only have to gather the most varied and attractive colors of wool to make your pompoms, you have practice and many do in a short time and each one is leaving a tip to hold them to the other pompoms how many? those that are necessary to create a piece that resembles a small cover, and that can serve as a cover, seat of your favorite chair.
Another great way to spend a little bit of your free time doing Chair cover with pompoms, without spending much and of overflowing color and originality. Nobody says that there are beautiful things that are simply done in an 2 × 3 that this is one of them, so you can go putting the wool, that scissors, a little time, a lot of enthusiasm and ready.
Image: Pinterest