I have not done it for a long time but when I was a teenager I kept the news clippings about the juvenile idols that I liked the most and then I read them and read them again. To this day they are still stored in a corner of a drawer of God knows where one day will have to be cleaned to make room for new things.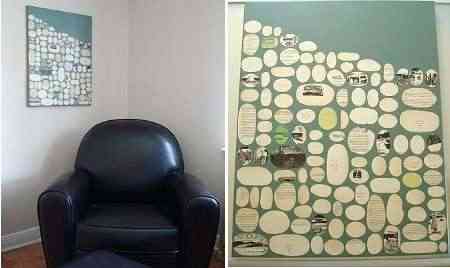 If you also have cuts that can be valuable, either because they are from your favorite artists, from your favorite novel, from your favorite movie even from yourselves (since for whatever reason you may have come out in publications) with this idea you can do a nice picture to show it to everyone and not have it necessarily stored in a drawer.
Materials:
A canvas
painting
brush
glue
fork
Books or magazines
Process:
First we arrange the canvas so that it is ready to work on it, or if we prefer it we can paint it the color that we like the most. While we let it dry we start cutting circles with different shapes, in this case our cuts would be these circles, and once the paint is completely dry we begin to stick them in different positions.
From here we are placing as best we are squared, by size, by color, by type of letters, from highest to lowest, etc. When we finish doing it and it is dry, it will be ready to put it on the wall.
Vía: imujer.com