I would dare to say that this is one of the most elegant crafts we have done in recent months. With very few materials we will get a simple adornment at the same time sophisticated and with a great elegance, of course it will also depend on the color of the thread that we are going to choose and the flowers.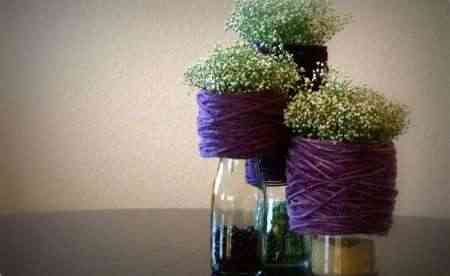 In this case the election has been more than successful. Let's see what we would need
cans and glass containers of various sizes
thick paper or cardboard
Scotch tape
thread
a fixative to harden the thread
dried peas, coffee beans, colored beads, etc.
flowers
Process:
First, we have to wrap the can with some thick paper or thin cardboard and we put the tape as to create a cylinder. We wrap it with a plastic coating and wrap the yarn around it, without squeezing it. We make sure that the yarn coverage is higher than the can.
Spray the child with fixative and let dry according to the package instructions. Once dry remove the paper or cardboard and place the cylinder on the can. Finally, we place some ornaments inside the bottle, whatever we want, and we will create the base. Once introduced, stick the top of the glass jar to the can and let it dry.
With regard to flowers, you can fill the vases with flowers of the same color or simply combine them as you like.
Vía: imujer.com