Occasionally we have seen how to make ornaments following the Origami technique, sometimes a little complicated but with a spectacular result. We can also apply it to make decorative objects for Christmas and it will only cost us to buy the paper, glue (or spray glue) and dedicate a few minutes to make our object.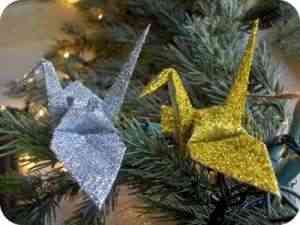 In addition to being handicrafts the children of the house can also be involved in decorating the house for Christmas, a time in which we all want to participate and that we can turn into a family day.
Process:
Following the video, we make the bow ties, and once mounted we sprinkle it with glue or with glue in spray and sprinkle with the glitter of the color that you like the most. Another option is that instead of using a plain paper and then throwing glitter, we can directly buy the paper in gold, silver, green or red.
Vía: Christmas