Fortunate those who have space because they will enjoy the room of the iron. That dream room, worthy of American ñoñas movies, but charming as the most. With a clean, white, neat smell ...
We usually think that the fourth of the iron is a privilege for those who own a large, spacious house, and that is not necessarily the case. It is enough to have a corner of about four square meters, even less, to get a space in conditions dedicated exclusively to an activity that usually takes between two and three, sometimes more hours, unavoidable, throughout the week.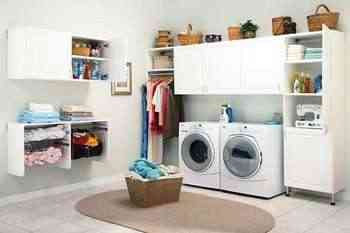 The first thing to do is to plan the space that best suits us to do the work of ironing, which can be near the washing machine or near the cupboards. If it is a reform, it is very practical to foresee where the washing machine will be located and then project the necessary spaces to store the clothes without ironing, the table, the accessories, the iron, etc. Just one front of 2 x2,20 square meters and 60 background to locate washer, dryer, clothesline iron and containers. More than natural light, in the room of the iron is necessary a good ventilation to avoid condensation and excess heat, and a nearby water intake.
The goal is to make the work of ironing comfortable and practical, and for this it is necessary to think about the logical order in which it is made. Thus, it is necessary to have baskets or containers of the materials that you prefer of different sizes to go stacking the clothes as it is ironed. In this way it will be much easier to reposition it later in the cupboards because it will already be classified. Hangers for clothes hangers, and drawers for storing the clothes brush, even the sewing box are also very useful. And of course we must not lose sight of the quality of the table, which can be foldable or not, and always well padded and wide.