If you are thinking about changing your sofa or simply changing the cover, be aware of the resistance level of the chosen fabrics.
You have to demystify the concepts; A fabric may be corpulent and may not be the most appropriate to cover the sofa. The resistance of the tissues is validated by the marks through an international test designated "Martindale test"
This is an evaluation method that will graduate the level of resistance of the fabric by rubbing it with another with characteristics that try to simulate the surfaces that will be in contact with the sofa cover, for example the fabrics of our clothes. How can it be a jean?
At the end of a certain number of friction cycles, the tissue will be broken, setting at that moment, the index corresponding to the Martindale test.
In this scale of evaluation, those cover fabrics are considered as sufficiently resistant, if they are able to withstand approximately 20.000 Martindales or more, from this value, we can say that the fabric is suitable for those sofas or armchairs for domestic and frequent use. .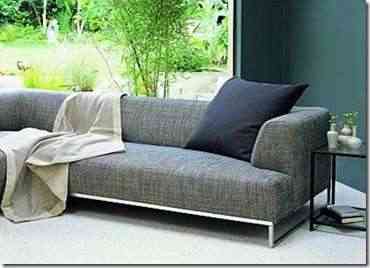 If we analyze a cover fabric for a public space, for example, a consultation chair of a dentist or psychologist, there the level of resistance should go up to the 100.000 Martindales, if we do not want to change the cover more frequently than desired.
For these reasons, before choosing the fabric for the cover of the chairs, pay special attention to this index of resistance level, the Martindale index, which should be on the technical sheet of each tissue sample for these purposes.
But if you are still not sure if the chosen fabric is suitable for your needs, do not hesitate to contact our professionals, who will be happy to assist you and guide you technically in that regard.