Many of us look for a place in the kitchen to locate our frying pans and cacerloas. But in small homes the lack of a place of storage, for this type of household, is reduced if not nonexistent.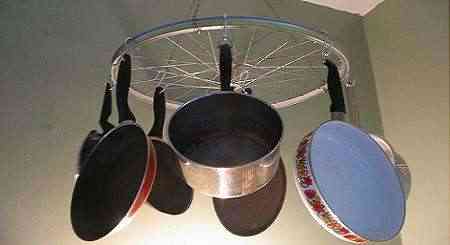 Due to these factors on many occasions, we have the organizers full of pans, pots and pans that occupy everything.
If you want to organize yourself better, maybe today's article will help you; This beautiful pendant for the kitchen serves to locate all the pans we have. Just hang them and that's it.
If you want to make one, it's very simple. Here we leave the steps:
- Bicycle wheel (only the metal part)
- S-shaped metal hooks
- 3 Long chains
- Tweezers
The first step will be to take one of the chains that we have obtained and open the last link with the help of pliers. Now this end we will pass through the wheel and hook it again giving the complete return on it. Close the link
The objective is to keep the wheel firmly attached to the chain. Now we will perform the same step with the other three chains. You must make sure that the chains are placed in a triangle shape, so it will be completely balanced.
To finish we will take one of the hooks, those that have an S shape and we hook the ends of the chains. Now we will place the other hooks on the wheel.
To locate the wheel on the roof, we will only place one of the hooks on the roof and hang the chain there together with the wheel.