Today Decoration 2.0 we teach you to decorate a pretty mirror that we can use to decorate any of our rooms. If you have a mirror that you do not use or you have just bored of it ... today we teach you to decorate any mirror.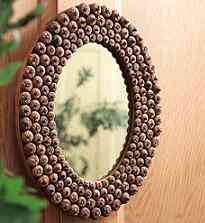 We will give the piece a natural style, because we will decorate using natural resources such as seeds and acorns. The materials we will need will be:
Mirror
Glue
Acorns or other fruits or seeds
First we will clean the mirror very well and let it dry. Now we will be sticking the acorns or similar on the surface of the mirror, contour the surface of the mirror.
If it has a frame we will decorate the frame, but we will adhere the acorns around the mirror. Try to do it from the inside out. The ideal is to have seeds of different sizes. To make a surface with effect, we will place the smaller seeds for the center and the larger seeds for the outside of the frame.
Let dry and hang where you like.