In the country houses the old rakes can be used to decorate. Those rakes made of iron and wood that weighed a quintal are a magnificent piece of decoration to decorate a rustic house, but they can also be used with another function in modern houses, of current and contemporary style.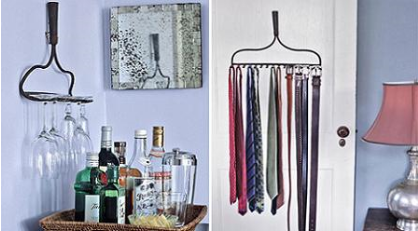 One of those uses is found in Home Space, that shows us a restored rake making of support for cups or ties.
We just have to remove the rust that may have accumulated by the years of antiquity, the dirt and paint it. Black is a very elegant and discreet option although we can always choose any other that stands out more.
It occurs to me that it would be ideal for the amount of scarves for the neck and scarves that I accumulate in any corner of my house.