Dedon is a German company specialized in exteriors of which we have already spoken through its Ying-Yang armchair. We are already in the spring and the windows are filled more than ever with outdoor furniture to prepare our garden and enjoy sunny days.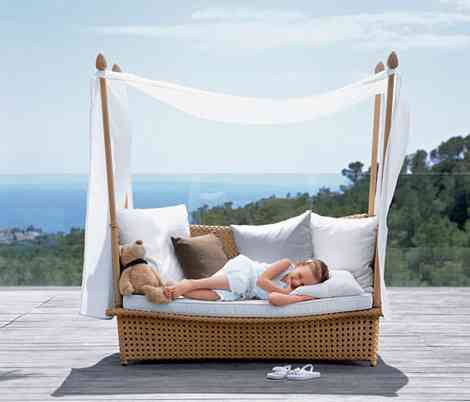 We have also updated on the latest models and this time the novelty comes from Germany. The collection is named Daydream and has a fresh style, like the cool summer breeze. It exudes charm and relaxation and the unique style of outdoor sofas makes them ideal for the days when laziness overtakes us.
Children will love having a Daydream because it is just the right size for them to lie down and sleep a peaceful nap. The canopy is optional, although it is always attractive to protect from the sun and the side panels can be removed and put on.
It is available in two colors: white (with Ibizan airs) and brazil, with the structure in brown tones and the canopy in orange and there is a wide variety of attractive cushions to choose from.
Further information: Dedon
Vía: Trendir