If we have any old furniture that we do not use or that we are going to stop using, before throwing, think about recycling. In today's article we will see how we can renovate an old table, converting it into a modern mirror table.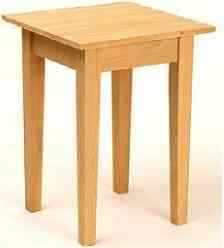 The materials What we will need are the following:
- Table or bench
- Metallic paint
- Brush
- Special glue for mirrors
- Five mirrors cut to size
First we painted the table, with the metallic color that we like the most; let it dry and if we see that it is necessary we will apply a second coat of paint.
Now let's cover the mirror table. In this case we measure the surface, height, width and all the nooks and crannies to know what proportion the furniture has and to be able to cut these to size.
In this particular case, the surface has been measured - cutting a piece of mirror of equal measure - and the dimensions of leg to leg - cutting four mirrors of equal size and the length we want -
Once the mirrors are ready, the we adhere to each side of the piece of furniture, on the legs. Then we will stick the mirror on the surface and ready.