Whatever the Cabinets, one of the main problems that they usually present is the moisture.
Eliminating or avoiding the humidity of the cabinets and therefore of the garments is a challenge. Well, it was, because I'm going to show you a simple solution that will help you forget about this problem. Look: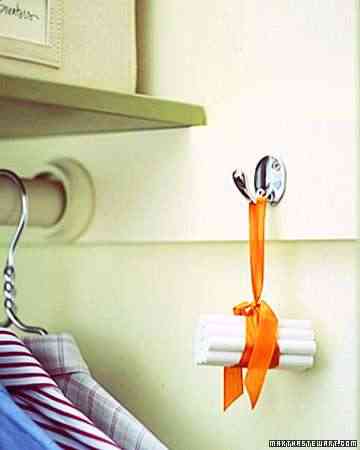 All you need are a few chalks and a striking ribbon (the latter is not essential). Ata, ta and as you see in the image the chalk with the ribbon making a nice bow and hang them in the closet, the moisture will disappear.
If the chalk is going to be in sight, I advise you to use colored chalk that fits with the decoration of your dressing room or closet.
Add personality to your decor customizing in a simple way the small details.
An example of how personality and adapt those small details to our tastes, our decoration and our personality can be this: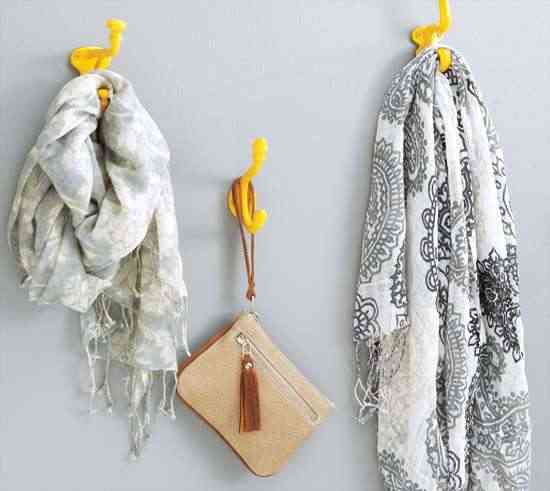 As you can see, it's about a few simple hooks, racks o strainers, as you want to call them. They do not have anything of particular, you could find them in any shop of decoration, commercial center or hardware store. However, they are different, original. Well, to achieve that personal 'touch' it has only taken a little paint.
Reinvent.
After the fever of consumerism and extreme modernism, the fashion of the old, of things with essence or what is the same, has returned. vintage, the Retro, the customized.
There are many objects around us to which we could give many uses, to which we could get much more out of them. I give you an example: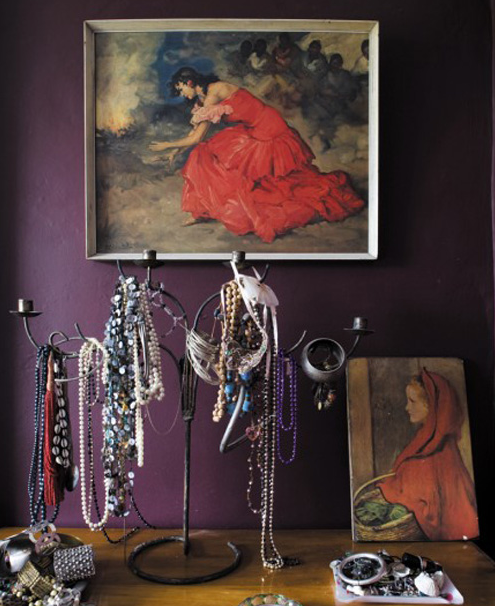 If you are passionate about jewelery and jewelry, and you do not know where to put so many necklaces, bracelets, rings and brooches, this can be a good solution ... With or without candles, you can use any candlestickto have on hand the complements that you use the most. It is an original, economical, functional solution and, in addition, it is very decorative.
Look around you, surely you find some object that can give much more of itself.