La creativity It has no limits, you just have to know how to use it together with your ingenuity. This time we talk about a decoration from gift papers... simple, easy and very economic.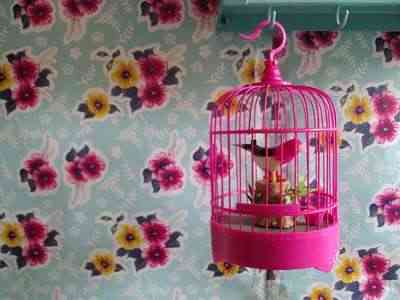 El decoupe is a technique that we have talked about many times, try to bring an image that we like to almost any object or articles. In this way we can move a drawing of a napkin that we like or a gift paper that we love.
We can also use white carpenter tail lowered with a little water, in this way the paper will stick resisting the passage of time and our object will remain with a touch of brightness.
We are many people who keep this type of paper, either because of how beautiful some are or because we want to recycle to use them in our next gifts.
But friends, there are many forms of recycling, we can use this type of paper in the restoration of objects and in the decoration of our home. From pictures to place them on the wall of any room, to decorate the most beautiful boxes or other item that we like.
On this occasion we see how they havewounded to the wall pieces, large and small, of gift papers. The secret? variety in colors, diversity in shapes and white glue or some adhesive for this type of paper. One last suggestion is to apply the glue with a spatula or brush, this will prevent internal bubbles from coming out.
We hope you like it and that you are encouraged to do any of these activities.