We know that tand love decorating your home, so we do not tire of saying that in the details you find the secret. If you are looking for an environment warm and homelike Nothing better than decorating your refrigerator with the funniest magnets.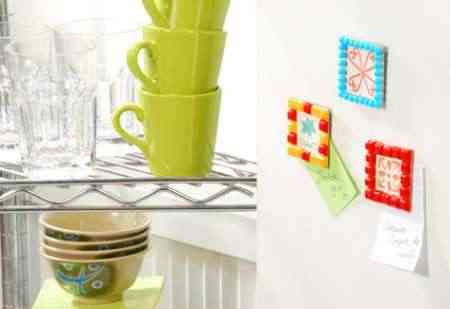 If you want to learn how to do this craft, materials necessary will be the following:
- Cardboard or white cardboard
- Magnet plate
- Pencil
- Ruler
- Scissors
- Mini colored beads
- Universal glue
- Colored markers
First we will have to cut out small squares of cardboard. The dimensions of these will be about 5 x 5 cm. Now we will repeat this step but, this time, with the magnet plate.
The second step will be Adhere the cardboard squares to the magnet plates, for this we will do with a universal glue or a specific one for this type of craft.
Now we will proceed to give you a beautiful frame. To do this, with the help of the glue, we add small vencitas around the cardboard. we stick them for the smoothest area and contrary to how they are used ... and ready!
Finally say that we can vary this craft as we like, in this case we can make the frames with mostacillas and decorate the fridge!
Important
* You can draw the designs of old ceramics.