El Arabic styleIt has been gradually straining in the decoration until getting a great prominence.
If you look, a proof that the Arab style is in fashion is that every time we find more restaurants, coffee shops, tearooms ... in which the absolute protagonist is the Arabic decoration. If you like this decorative style and want to introduce it in your home, I give you the keys.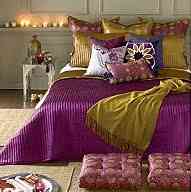 - In the decoration of Arab style the protagonists are: cushionscomfortable and comfortable, the silky fabrics, The carpeting, The low tables, trays y tea games of copper or silver ...
- The colors They are very important in this type of decoration. Faced with an Arabic style decoration, the bright colorsare essential: roses, greens, reds, turquoises, purples, fuchsias ... Essential colors that create an explosive but very harmonious mixture accompanied by all kinds of embroidery and sequins.
- On the floor you can not miss carpeting thick, comfortable and traditional in which there is no lack of bright colors and patterns.
- The walls can not be forgotten either,patchwork paintings and showy mirrors will help to achieve the desired style.
- As for furniture It is best to opt for natural materials such as wood and styles that evoke interiors typical of India.
– The gold and silver It is ideal for both accessories (teapots, cutlery, mirrors ...) as for furniture (chairs, small tables ...).
- Do not forget to include in your decoration poufs, A decoration of Arab style that boasts must have some poufs.
At the same time, despite being a visually overloaded style that requires attention to many details, it is not complicated if you take into account the essentials. The rest depends on your tastes, ideas and needs.