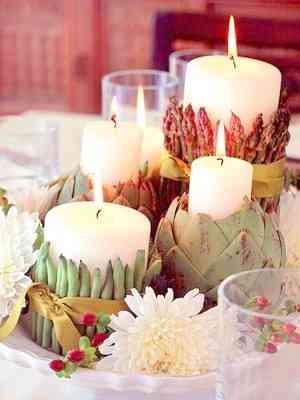 Gone are the days when they were only used candles to illuminate the house when the power is cut or for decorate birthday cakes. Nowadays, they are also used as decorative accessories, very useful to provide a space with a special atmosphere.
Un arrangement with candles provides the final touch to centerpiece and creates an atmosphere that does not match any other type of lighting, but the use of these accessories is not limited to decorations of tables.
The Candles They serve to adorn any corner of the house, provided that they harmoniously complement the style of the site.
If you use your imagination, the results obtained can be unique. The Candles they can be used alone or placed inside pots and other containers. The possible uses of candles in decoration They are infinite and there are some that are really very original.
The glasses and ceramic pieces They are ideal for placing candles of different colors and shapes, as well as some vegetables used as bases, which can create very nice visual effects.
The pumpkins, for example, they have an excellent shape and color to be used as a base for candle arrangements).
However, some aspects must be taken into account when choosing the candles to decorate the home. When creating a arrangement with candles, it is necessary to try to guarantee harmony between colors, shapes, textures and accessories.