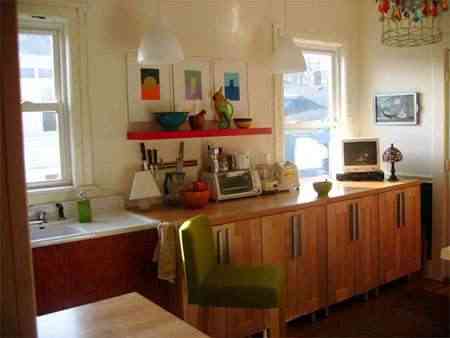 To decorate a small kitchen, the first thing that must be taken into account is that you must have adequate space to store the various utensils that are used in it, which do not have to be in view, as this gives the feeling of disorder and jumble, while dwarfing the environment.
Using the hangers, to place pans, pots and other accessories, is a good option to free storage spaces.
Another useful idea to generate new spaces and save items is the placement of shelves and shelves on other furniture, but we must bear in mind that these places are usually at a certain height, therefore, it is advisable to place on them, the objects that are not use too often.
Lighting and colors play a very important role in the decoration of our kitchen, ideally opt for light colors on the walls, or directly the color white.
Another way to decorate your small kitchen is using the correct colors and creating certain contrasts. For example, a combination of red and black is a good idea, or the combination of white walls and dark furniture provides a feeling of more space.
As for artificial lighting, it must be a white light that has a very good intensity in the food preparation area, and it is advisable to avoid dim lights because they generate shadow areas.