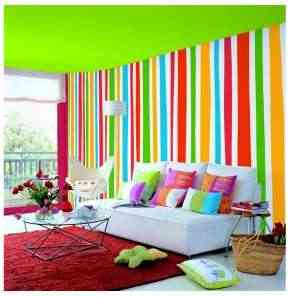 The decoration with certain colors, can turn a gray space into a happy and pleasant space to spend moments with family and friends. Interior decoration can be fun through the intelligent use of one or more colors.
The arrangement of furniture, the harmony between colors and their combination, can make a difference when it comes to decorating.
Tips:
Colorful living room: Bright room with shades of blue. A deep shade of blue-green decorative ink provides a colorful setting for a mid-century style.
Kitchen with pink wallpaper: A wallpaper in pale pink and white gives a kitchen a touch of color without being arrogant or pretentious. The right touch of elegance that makes a difference in a kitchen.
Living room in yellow: The walls saturated with yellow give a special shine to furniture and upholstery.
Fourth in pink: A vibrant combination of pink and orange colors gives a sophisticated look to a room and can look great if you use the appropriate curtains and accessories.