Do not know what dates are about to arrive? Halloween !! ... I think that quite a lot of news and crafts are read lately here. Therefore, in this article I would like to show you how to make some really scary little ghosts.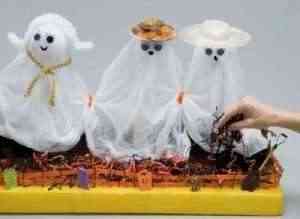 For our special night ... we are going to make ghosts that will be the envy of all our neighbors and friends. Do you want to monopolize with the looks?
For this we will need:
- A foam base
- 4 foam rubber balls
- 3 meters of white gauze
- 4 wooden barite
- Color tapes
- 1 black fabric meter
- Color paints
- Halloween miniatures like spiders, bats ...
- Black, white cardboard of different colors
- 3 doll hats
- Glue
- Scissors
We will start by gluing the foam balls to the wooden wands. We will anchor the skeletons in the base of foam, which previously we will have covered with fabric or tulle of black color. We will cover with the gauze giving shape to these ghosts.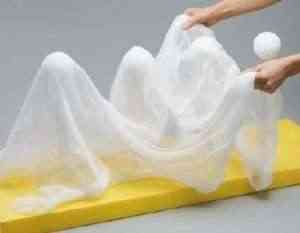 The cardboard will serve us as a material with which we will make the eyes, lips, noses ... we will stick them to the fabric and put on the hats. We will tie the colored ribbons to their necks.
We will add the moss base, the Halloween miniatures and finally we have our cemetery center to terrorize the guests ah ah ahhh.
Finally, we will draw and trim the headstones. If we want to add some kind of decoration, it will be easy to let imagination, creativity and ingenuity fly.