We enter the final stretch to think our Halloween decoration. Less than six days we must have more or less planned what we are going to put ourselves and what we are going to put at home. If there is no time, there is no problem because with these simple crafts you will have your decoration in a jiffy.
Today we learn how to make a "center" of rotten and disgusting brains.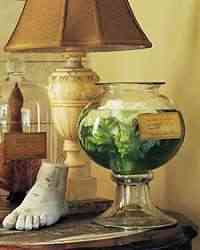 Materials:
Glass jars
Green coloring
Milk
Cabbage
Process:
The first thing we should do is take several jars or bowls and fill them halfway. Then we take a spoonful of green dye to look like the delicate veins of the brain. Then we cut the cabbage simulating the shape of a brain trying not to protrude from the jar. The idea is that the cabbage floats among that greenish environment.
We can give the final touch to this curious craft by writing a note on a cardboard. TheZombie brain, do not touch!. It's the perfect touch so they do not go unnoticed.
Vía: Christmas