Surely after your holidays, or if you live near the coast, you have taken many shells from the beaches .. for that reason today we are going to give you an idea for the decoration of the smallest ones. If you want an option to use those beautiful seashells and an activity for your children, do not miss how to make this funny crab!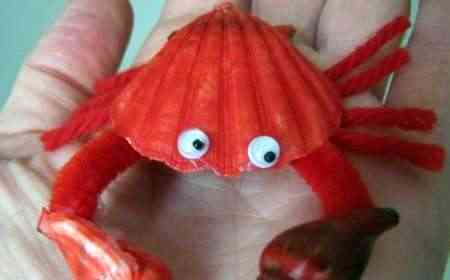 The materials what you will need will be:
2 Snails and a large shell

Red paint

Brushes

Glue gun

Pipe cleaner (brushes)

Red wool remnants

Little eyes (they are available in haberdasheries)
The first thing is to choose the snails and the shells that are going to be part of the body of the crab, in particular they are two shells for the tweezers and a larger shell that will make the body. Then we paint all the pieces red and let them dry very well. Remember that if the pipe cleaner is not red we can also paint it.
Well, now we stick all the parts together, as we see in the image. For this we can help with the glue gun, first cut a piece of lippings of 10 cm, fold it in the shape of a horseshoe and paste, on top, the shell that makes the body. On the tips, place the smaller snails, these tongs will be.
Now cut four pieces of red wool 7,5 cm long and adhere them under the body as if they were the legs. When everything is well dry we will stick our eyes and that's it! ... we already have our beautiful and original crab to decorate the children's room using sea materials.