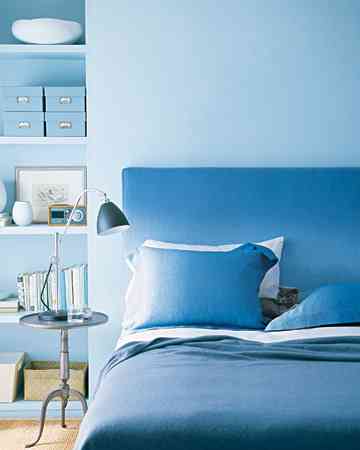 La decoration of our room it must be very well balanced, since the bedroom It's a place where we're going to spend a lot of our time. So the decoration of the room must be Modern, comfortable and with a classic touch. In this post we will give you some suggestions to decorate your room.
The walls can be painted in shades of blue to create a peaceful, modern and very comfortable environment. You can choose between painting all the room or only a part of it.
If the room has a window, you can place a shelf over it. Besides saving your books you will be earning a decorative element.
A good alternative is to use a dresser that has a frosted glass, since this type of furniture gives the feeling of occupying less space.
Carpets are essential for comfort. Play with different textures, colors and sizes. Choose carpets that are easy to clean.
Use small colored shelves to bring your room to life. In addition to being good for decor, can be used to place books, watches and other objects. You can also add pictures to your room to give a modern touch.
To maintain order, you can choose to use baskets and place them under your bed.