Now, the Christmas it's here. The time for preparations and ideas for our Christmas dinner or meeting at home was exhausted and it was time to enjoy Christmas.
How, that you still lack details ?. But if there is no time ...
Well, thinking about it, there may be some other "express" solution that can save you at the last minute. Let's see:
It occurs to me, for example, to solve those problems of decoration on the table -which often we forget about it-, that you choose any transparent glass vase that you have at home and fill them Christmas balls. The result is very eye-catching, as well as easy and fast.
If all Christmas balls what you had at home are decorating your tree, do not worry, what do you think if you use some almonds, chestnuts or nuts instead of Christmas balls. The result you will get is also an original and delicate centerpiece that is very easy and quick to make.
Although, if you like Candlesand you want to create a simple centerpiece that will surprise your guests, this may be an ideal option.
You just have to put a candle inside a glass and some branches in a slightly larger clear glass container. Simple, delicate and that will create a warm and sophisticated atmosphere.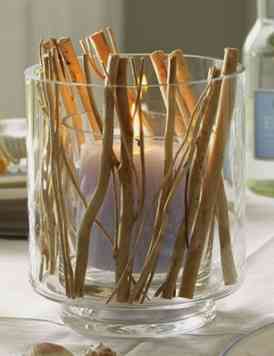 And if the details on your table are not missing because you had already thought about them but lack an original and elegant «touch», perhaps a bow adorning your chairs and that it combines with the rest of the decoration can help you.
As simple as skirting the chair with a cloth or ribbon and make a colorful bow on the back.